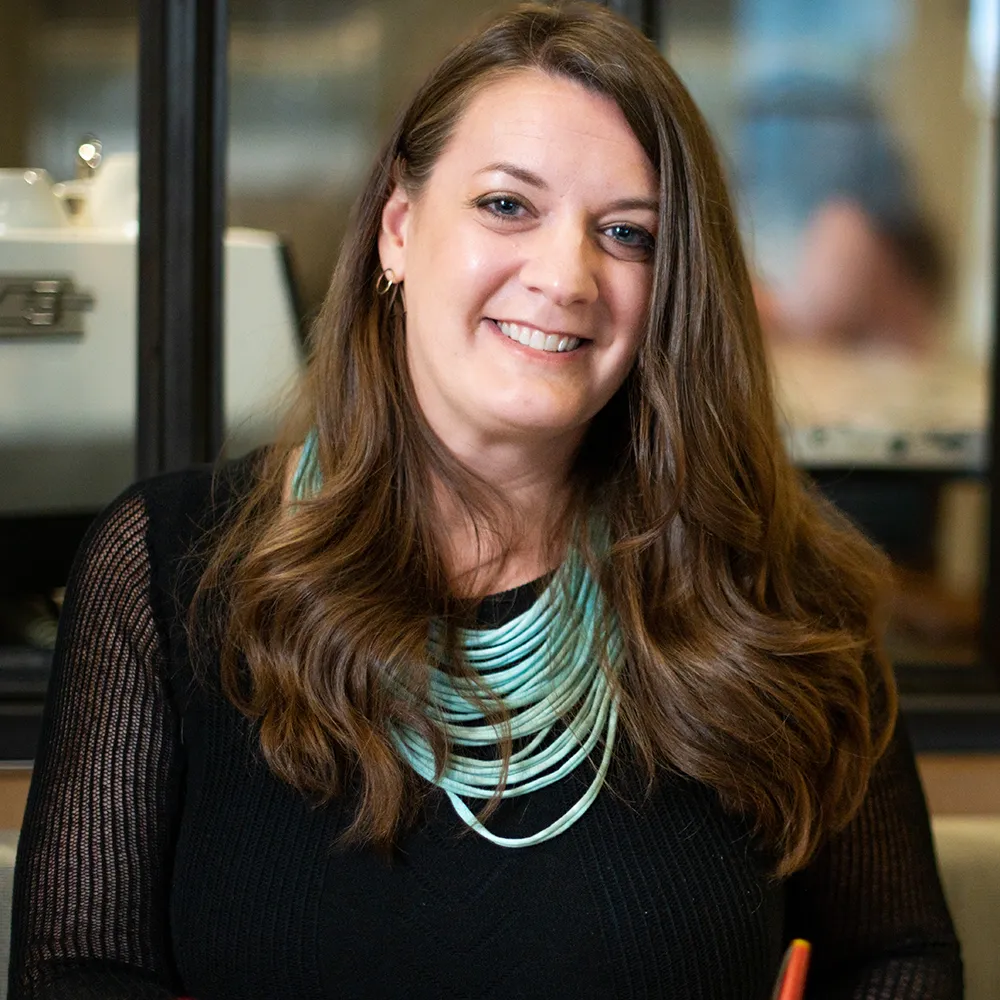 Home › About Us › Our Team › Principals › Amy Collins
Amy Collins
Amy Collins is a connector—a bridge between mindsets. She cultivates strategy, carries it through design, and ensures the built environment delivers on its promise.
As a holistic thinker, she sees how design spans from big concepts to the finest technical details—and that every part of the process is critical to a project's success. By embodying PDR's mantra of Purpose, Responsibility, and Impact, she inspires designers to reach new levels of commitment in their craft and helps teams recognize their impact as agents of change in the built environment.
At PDR we lead through design. We sharpen our world, bring ideas into focus, inspire behaviors, and build memorable experiences. Design is an incredibly uplifting and powerful tool. Both strategic and sensory, it appeals to everything that makes us human.
As a firm Principal, Amy is a vital part of shaping PDR's voice, ensuring that every project embraces equal parts strategy, brand, and interior architecture to deliver spaces that personify identity and communicate an organization's story. Amy amplifies the abilities of PDR designers, architects, and consultants, honing talent and building teams that can scale challenges with confidence.
Amy's dedication to research and critical thinking is evident in her projects, such as Ottobock's North American Headquarters and Flagship Clinic, a 2023 Workplace Finalist in Fast Company's Innovation by Design Awards. When working with this global leader in prosthetics, Amy's expertise was paramount in helping Ottobock realize their vision. She and her team delivered a holistic experience that prioritizes inclusivity for patients and their support systems, while elevating the workplace experience for Ottobock's team.
Projects
Education
Bachelor of Science in Interior Design
Texas State University
Interests
Favorite Food: Tex Mex
Favorite Movie: Dirty Dancing
Favorite Activity: Travel
That emphasis on experience, as well as Amy's design philosophies, allows her to create spaces that embody her client's missions and values. When redesigning Savills' workplace, that personification meant creating an environment to support the goals of inspiring innovation, collaboration, and synergy, in an adaptive office environment. The result is an office seamlessly imbued with energy and excitement, featuring flexible work and social spaces distinguished by contrast, texture, and integrated technology to create Savills' desired "cool" vibe.
Her leadership and mindset transform the conventional into the celebratory, with every opportunity providing a new chance to better the A/E world.