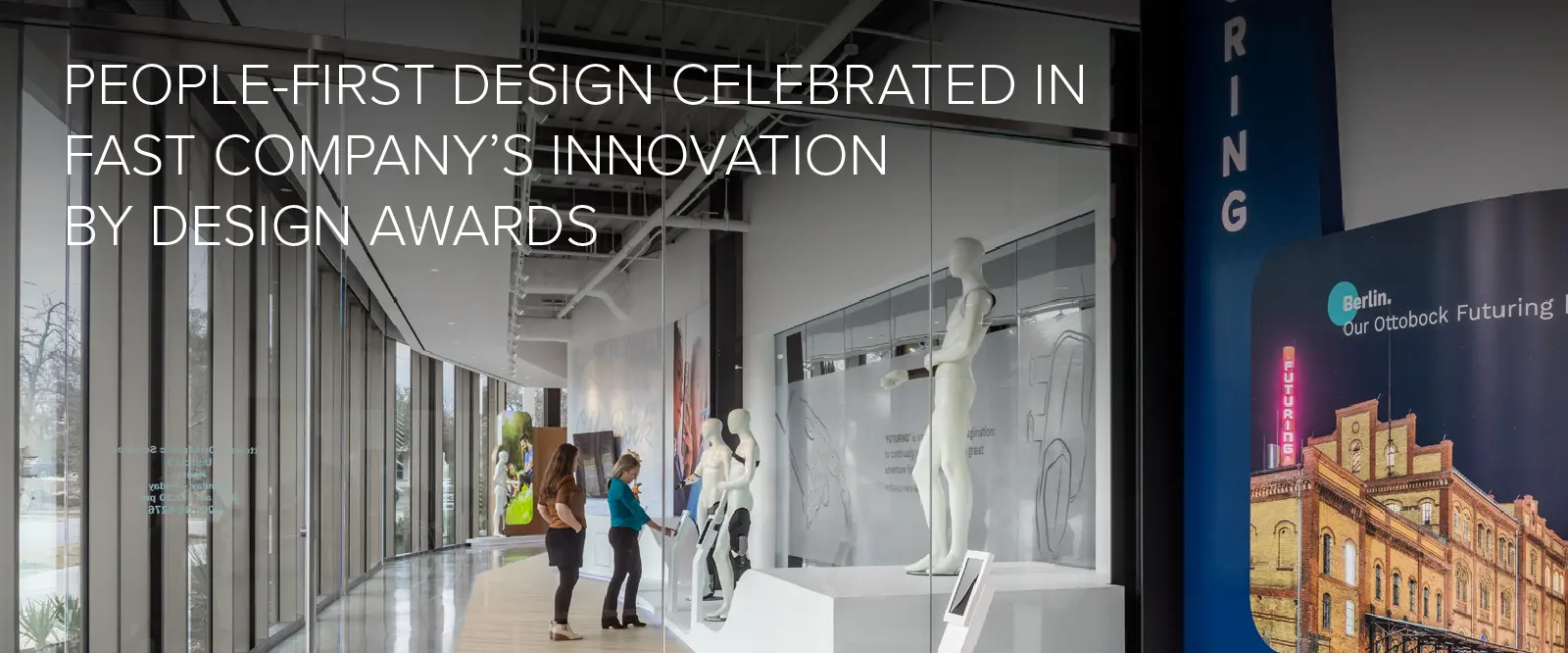 Home › Our Voice › Articles › People-First Design Celebrated in Fast Company's Innovation by Design Awards
Innovation and Purpose Come to Life at Ottobock's North American Headquarters
Human-centric design and innovation are at the heart of PDR's mission, which is why we're honored to have our work with global prosthetics leader Ottobock recognized as a Workplace Finalist in Fast Company's 2023 Innovation by Design Awards.
This prestigious designation is awarded to organizations creating design solutions aimed at solving humanity's most pressing needs. The Workplace category specifically recognizes interiors created to make workers happier and more productive, a core tenet our team aims to address through each design challenge we work on.
That people-first initiative was the primary intent when redesigning Ottobock's North American Headquarters and Flagship Clinic, located in Austin, TX. Our primary goal was to make the space innovative, going above and beyond typical fundamentals to create the ideal employee and patient experience.
In a healthcare environment, physical space is the foundation of a positive experience for patients, but it's ultimately employees who set the tone. It was essential that our design help establish the parameters that would create a pleasant, productive working environment. This begins with each employee's initial entrance into the building and extends to their interactions throughout all areas of the space. Additionally, Ottobock's leadership wanted the various design elements to immerse employees in the company's mission and values, have an emotional impact, and fully express their brand.
To bring their vision to life, we worked with staff and leadership to understand their specific vision and desires regarding an ideal work and treatment space. This resulted in the prioritization of key business imperatives and objectives pinpointed during the design process, establishing an innovative approach that pervaded every aspect of PDR's work with Ottobock. From strategic programming and architectural design to specific furnishings, lighting, and spatial flow, every element of the space was carefully thought out to inspire and energize employees. Team members can walk through halls filled with actual prosthetic prototypes or see their real-world impact via patient graphics, acting as a constant reminder of Ottobock's purpose and values.
The reimagined design also provides patients with an experience crafted to prioritize their comfort and put them at ease. This was achieved through interactive displays, walls of graphics featuring real Ottobock patients enjoying their new mobility, and areas for patients to practice daily tasks like cooking and cleaning with their newly fitted prosthetics.
Since a patient's support system may spend several hours in Ottobock's Flagship Clinic, it was important that guests felt like they were at home. During fittings or occupational training, guests can relax in the waiting area, where they'll find comfortable furniture along with refreshments.
Ottobock's Headquarters and Flagship Clinic is a beautifully futuristic space highlighting its 100-year history and a chronology of its advanced innovations along with a warm, bright aesthetic not typically found in medical facilities.
We are honored to have our human-centric work recognized. Congratulations to all Fast Company Innovation by Design Winners. To see a full list of the honorees, click here.