ExxonMobil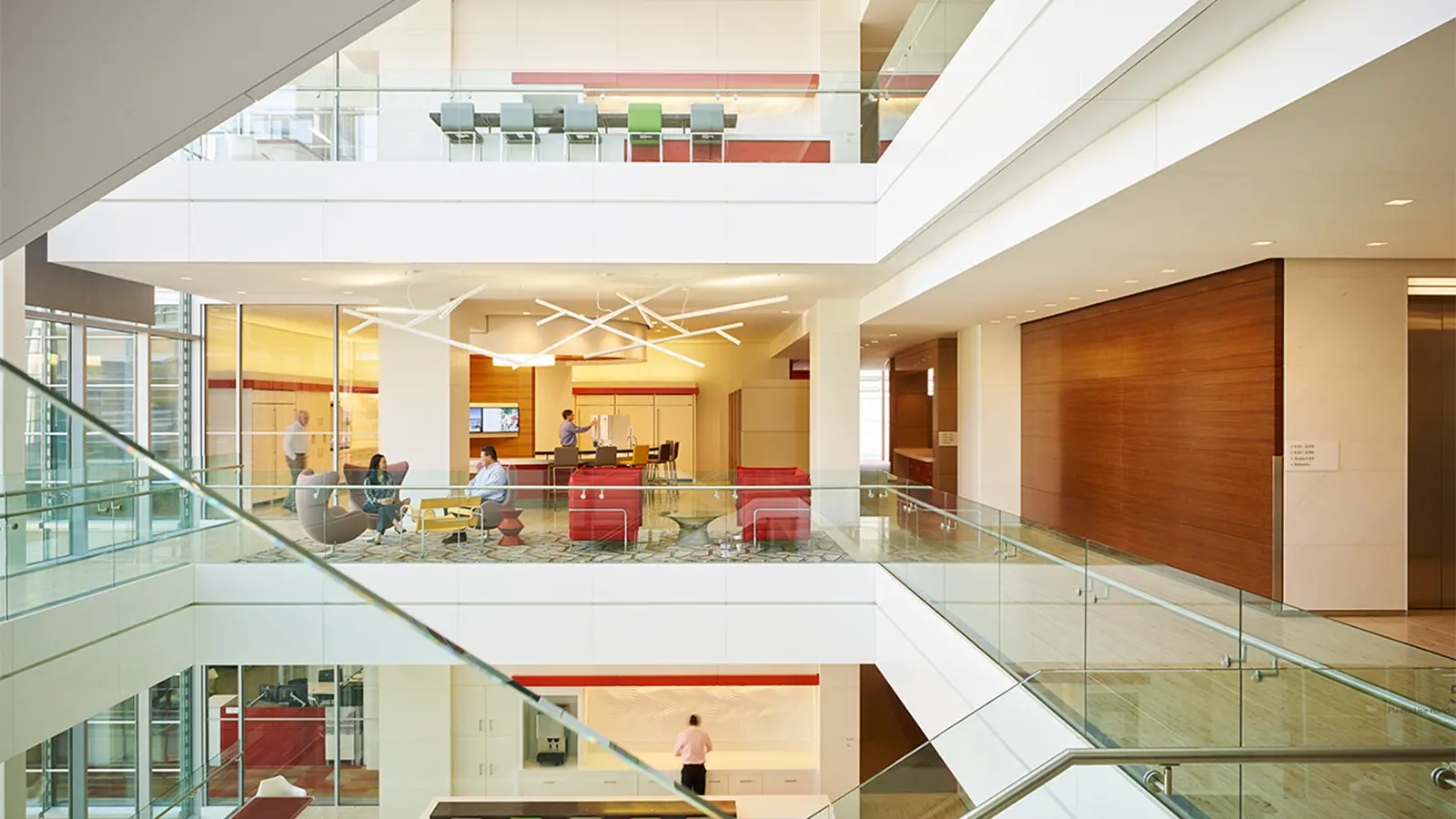 Home › Our Work › Projects › ExxonMobil
ExxonMobil
The Power of 10,000
The complexity of this 385-acre campus demanded a unique approach to deliver an integrated workplace hub catered to ExxonMobil's employees, business goals, and company values. PDR's Program Management and Architect role on the project helped to shape and execute a strategy for exploring, designing and delivering a campus that inspires creativity and collaboration.
The challenge of creating a sustainable and energy efficient, 21st-century campus for 10,000 people presented an opportunity to research the best ideas in emerging work patterns and work settings. Our team assisted in establishing a macro campus program and conceptual master plan to explore a comprehensive set of possible business and employee benefits. The search led to the North Houston Springwoods Village site, where we began to test the campus program and the master plan against the challenges and opportunities of the 385-acre woodland plateau.
As the Interior Architect at the forefront of the campus' design concept, PDR collaborated with design firm Pickard Chilton to create a network of integrated, high-performance building systems. Starting at the smallest scale of the campus, the individual person, the team developed a 3D grid plan that organized hundreds of programmatic requirements into a campus of interior and exterior spaces. The interior architecture of the workspace is designed to inspire both the focused work of the individual and the collective work of teams. Through this design, one person can easily work with another person, a team of six, a floor of 100, or even a campus of 10,000.
Project Details
Square Footage: 3M SF
Location: Spring, TX
PDR Team
COLLABORATORS
Pickard Chilton
Haynes Whaley
Walter P Moore
Cosentini
Harvey Builders / Gilbane Building Company
Herman Miller
Steelcase
Teknion walls
PDR's Workplace Development studio collaborated with ExxonMobil's Business Advisory Council to invent new workplace solutions based on the fundamental examination of work. Five diverse work types were discovered that are grounded in the framework of the eight campus attributes – Collaboration, Efficiency, Sustainability, Pride, Safety, Security, Modularity and Mobility.
GET IN TOUCH WITH US
Have an inquiry or some feedback for us? Fill out the form below to contact our team.