Beck Redden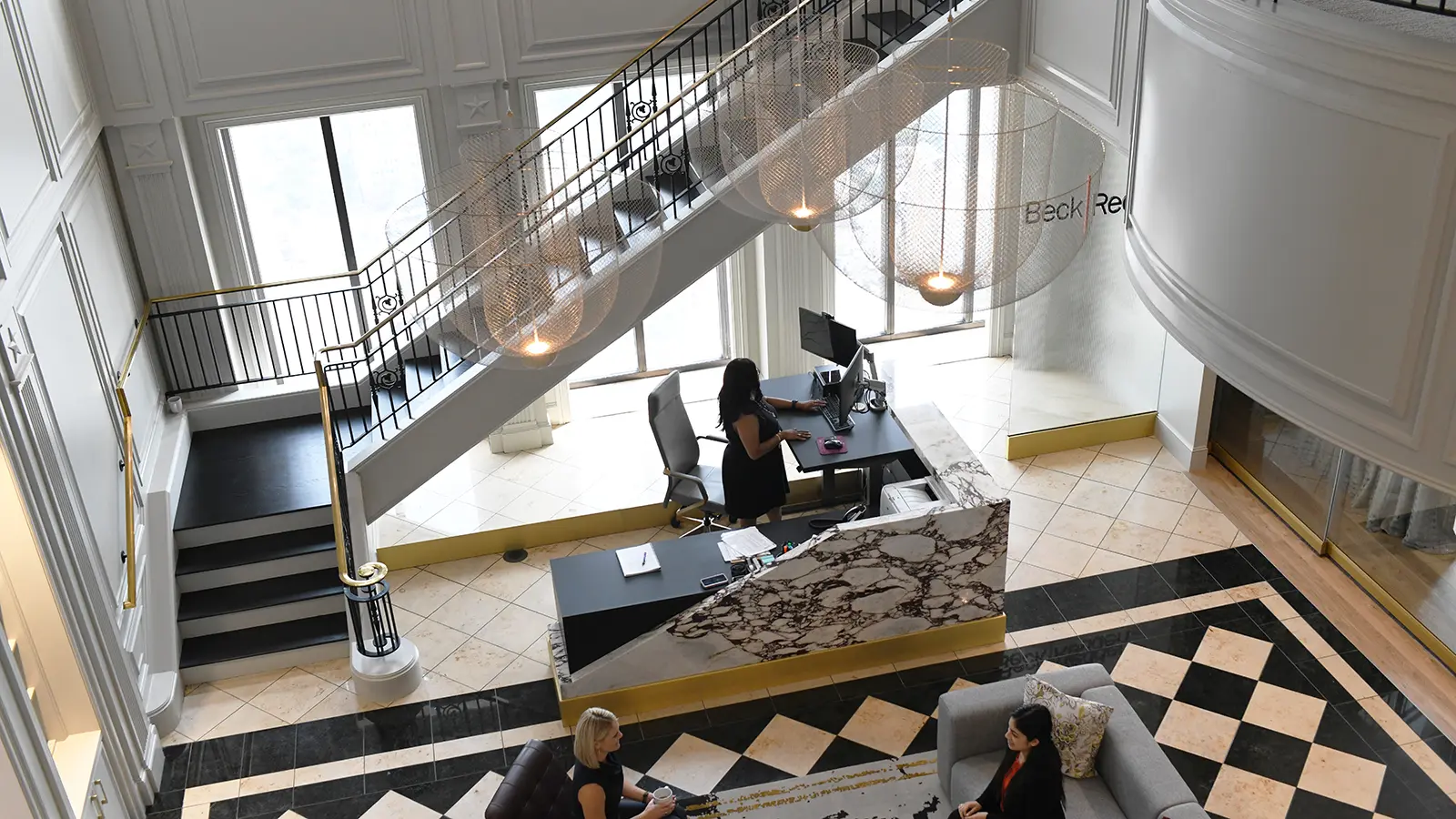 Home › Our Work Main › Projects › Beck Redden
Beck Redden
Refreshed traditions
How do you honor an ongoing 35-year legacy while paving the way for the next generation of legal experts? It's a difficult balance to execute with precision and intention. Houston-based legal firm Beck Redden looked to our team to find this equilibrium and infuse their office with touches of modernity.
When Beck Redden first approached us, they had two primary goals. The first was to refresh their office design in a way that felt contemporary while maintaining the legal firm's established personality, while the second required us to think about how we could add collaborative spaces to improve engagement and well-being.
We started by assessing signature elements, such as the timeless black and white checkerboard floor and the paintings honoring past partners. We knew that these core elements could serve as a throughline, tying Beck Redden's beginnings to who they've evolved into over the last three decades.
With the brand elements in place, our team began reworking communal areas of the office. Previously, Beck Redden's team found the lunch area too crowded and uncomfortable to spend much time in. This led most employees to instead eat at their individual desks, minimizing valuable team-building time as well as the idea sharing and generational knowledge transfer that happens organically in these types of shared spaces.
The new gathering space is a centralized hub with amenities that better serve employees. For example, a sizable kitchen island makes the space the perfect place for quick gatherings, and an updated coffee machine with cold brew taps is available for anyone who needs a quick pick-me-up. Likewise, an employee looking for some quiet time or just a change of scenery has access to a peaceful library & lounge area. We designed this space to evoke a similar sense of comfort employees have in their own living rooms.
Throughout the space, we were strategic in utilizing a color scheme that would pay homage to Beck Redden's history while blending seamlessly with the renovations. Our solution was to incorporate the firm's signature deep red hue throughout the office, allowing the firm's legacy to persist and be felt throughout the space, particularly in centralized areas like the library.
Project Details
Square Footage: 48,000 SQ FT
Location: Houston, TX
PDR Team
Coinciding with their office redesign, Beck Redden was in the process of switching to a hybrid work schedule, so our team needed to be intentional about solutions for accommodating a fluctuating number of employees in the space on any given day. While typical office redesigns might lean heavily into enhanced visibility and collaboration spaces, working with a legal firm requires a different mindset. We needed to make sure employees didn't feel isolated, while giving Beck Redden the level of privacy they and their clients require.
Though workspaces remained private, employees now have greater flexibility in their work style. When opportunities for collaboration present themselves, the revamped boardrooms offer the perfect atmosphere for discussion while offering privacy. When additional measures are necessary, strategically placed drapery allows partners to conduct sensitive meetings with an added layer of discretion. To add to the space's flexibility, our inclusion of movable walls in these boardrooms give the team able space for hosting larger client gatherings.
Likewise, we saw an opportunity for flexibility when revamping the firm's training rooms. With the addition of movable desks, these rooms can be easily and quickly adjusted to accommodate multiple types of classroom settings to support a wide range of training scenarios.
Collectively, our challenge was to provide the Beck Redden team with a space that felt as enduring as their legacy. Through our intentional incorporation of flexibility, privacy, collaboration and respite, the firm now has a workspace that brings the past into the present, while offering agility as they look to the future.
GET IN TOUCH WITH US
Have an inquiry or some feedback for us? Fill out the form below to contact our team.