Agile Interiors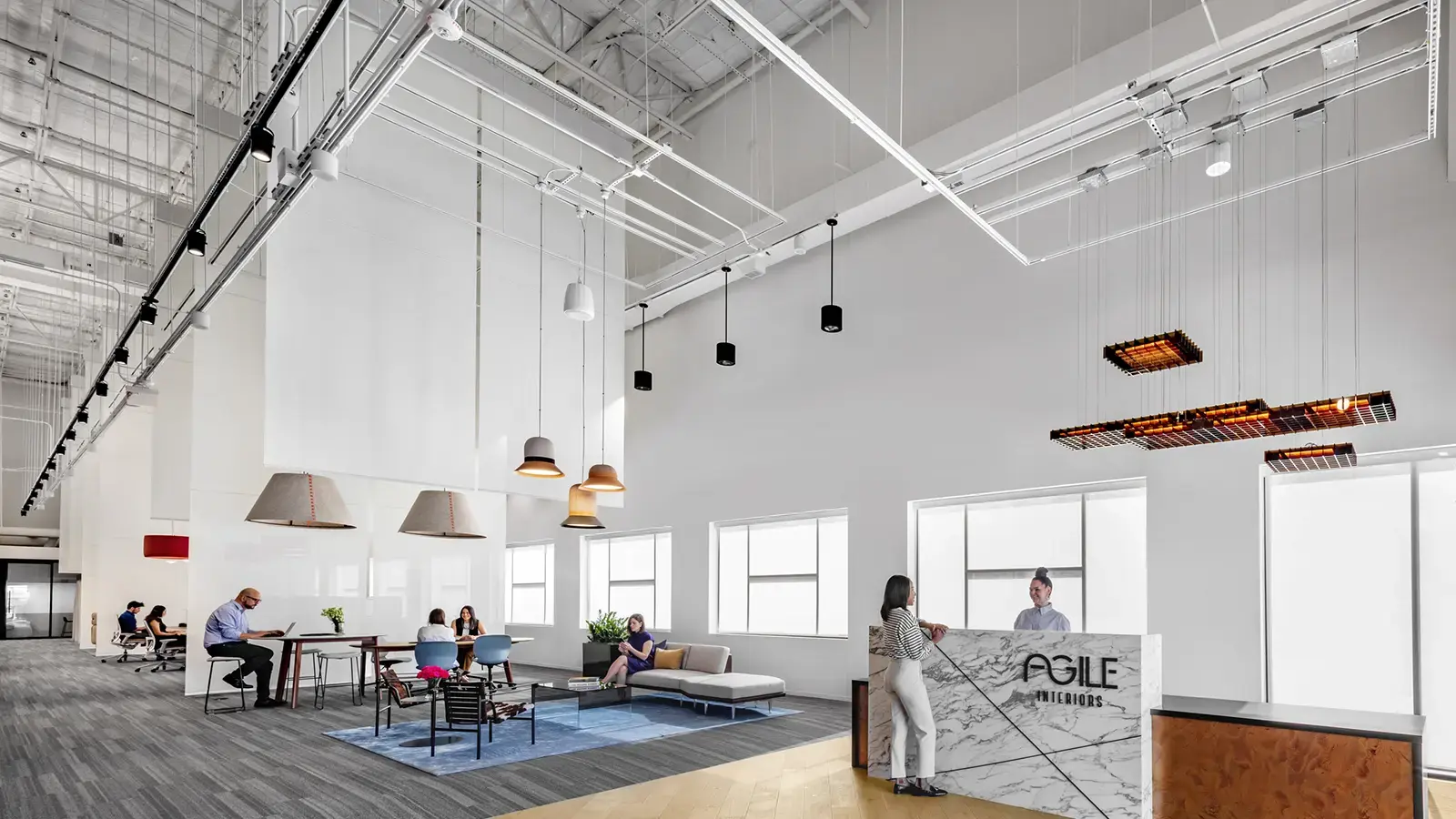 Home › Our Work › Projects › agile-interiors
Agile Interiors
Since their inception in 2005, AGILE INTERIORS has been a leader in architectural solutions and a top office furniture provider in Houston, Austin and the surrounding areas. They have a keen ability to partner with architects and interior designers to translate both their client's vision and needs into inspired spaces that embrace a future-ready mindset, while enhancing their brand, culture, and people.
Project Details
Square Footage: 10,000 SF
Location: Houston, TX
PDR Team
COLLABORATORS
Structural Engineer—Pinnacle Structural Engineers
Ken Wiseman/JLL (Project Manager)
General Contractor—DE Harvey Builders
Furniture Vendor—AGILE INTERIORS
Due to their immense success, AGILE INTERIORS outgrew their previous workplace. Their new home needed to be a flexible space to work within while also including an area to showcase their expanding product offerings. They wanted their showroom to beautifully integrate the work they do with the products they sell through its interior design and architecture.
Our PDR team was tasked with creating a vibrant, bold environment while keeping the architecture itself neutral, so their products shone as the main stars of the showroom. To deliver something a little unexpected, we incorporated all of the products that AGILE represents into intentional and artistic displays throughout the space.
When visitors enter the AGILE INTERIORS office, it immediately clear they're not walking into a typical commercial space. Artistically designed suspended elements, interesting lighting fixtures, and a canopied ceiling structure over the primary workspace were leveraged to create a designated feel of balance in this immense space. Originally a warehouse with 30ft ceilings to contend with, we were met with a unique challenge of creatively filling the space with both the team and visitor experience in mind.
Immediately as clients enter the office, they're met with touches of hospitality-inspired design. From the state-of-the-art lobby perfect for collaboration and client introductions, to flexible meeting spots, and little easter eggs of fun to match their playful culture, every inch was created from a human-centric viewpoint aimed at delivering a positive user experience.
To provide flexibility in an ever-changing world, we tore down the walls of tradition, and reworked them to cater to AGILE's needs. Instead of hard walls, we opted for the use of Lutron Roller shades (floor-to-ceiling automated shades), that allowed them to maximize the agility of the space with just a push of a button. This gives the team the ability to change the layout of their showroom for their various needs.
Functional and beautiful, the AGILE INTERIORS office Is the perfect blend of showroom and workplace.
GET IN TOUCH WITH US
Have an inquiry or some feedback for us? Fill out the form below to contact our team.