Midstream Energy Services Firm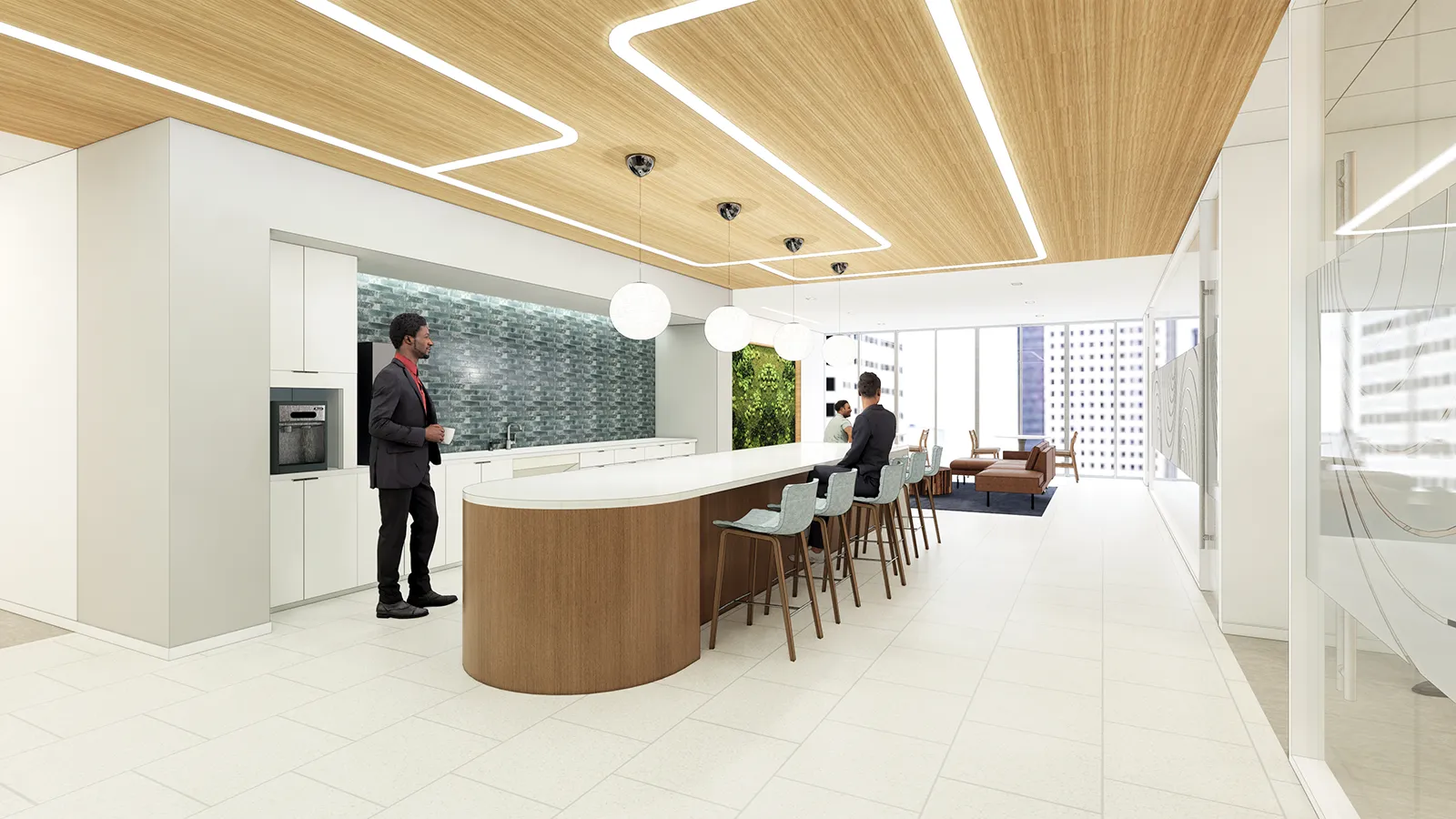 Home › Our Work Main › Projects › Midstream Energy Services Firm
Midstream Energy Services Firm
In with the new
In with the new… midwestern minimalism that is.
Entrenched in the culture of the Midwest, this firm wanted their new office space to reflect the region's heritage. The area is characterized by the beauty of the Great Plains and the Great Lakes, rolling rural landscapes, and carefully tended farmlands. The people treasure their serene countryside, focus on family traditions, share a concern for others, and value straightforward hard work to maintain their close-knit communities.
Family, Community, Simplicity
So, it was only natural that the new workspace should celebrate family and community, express an appreciation for teamwork and innovation, and convey a "no-fuss" attitude focused on simplicity.
The design needed to meet specific goals related to both form and function. Functionally, we had to ensure the space enhanced the firm's culture of camaraderie, encouraged cross-pollination of people and ideas, created a memorable impression on visitors and employees, and respected and anticipated current and future business needs.As to form, the firm envisioned an evergreen rather than trendy approach to aesthetics; a neutral design language focusing on operational excellence, integrated warmth using natural elements, and maximized daylight that capitalized on glass partitions that also represented its transparent culture.
Although at first glance some of these goals appear to be contradictory, in truth, our team prides itself on melding seemingly opposing elements into a unified, seamless whole. This was the overarching challenge of the project and one that particularly inspired our design approach.
Project Details
PDR Team
COLLABORATORS
Infinity MEP Engineers
Harvey Builders
A Move from Old to Modern
The new office, in one of Houston's newest developments, also presented the firm with the opportunity for transformation. It was relinquishing its formerly siloed working environment in a half-century-old structure in favor of more connected spaces that would foster collaboration and offer daylight views to its staff. All elements of this midwestern minimalistic project were monitored by this fundamental idea. In turn, every aspect of the project – from layout to lighting, from flooring to furnishings, from color palettes to partitioning – adhered to these guiding principles of simplicity, nature, and family.
All four floors of the new space impart a sense of grounded earthiness through the generous use of wood in furnishings, flooring, and walls. Couch and chair fabrics are primarily earth-toned, and walls and floor are in muted colors that bathe public areas and workstations in a breezy calm. Rather than accentuate the high ceilings, we instead chose unobtrusive yet bright lighting that focuses attention on the activities below. Murals punctuate the walls with surprise splashes of bright green. The four floors provide clear lines of sight and an easy, logical flow from one space to another, ultimately nurturing a sense of calm while also energizing the intellect and promoting creative thought in a workspace that is designed to be timeless.
A Winning Strategy
Our strategy team worked together with the firm to organize their programmatic needs to create a beautiful, cohesive environment. Internally, collaboration is expected to improve exponentially, and as a result, the firm is positioned to achieve higher levels of productivity. Externally, the new office aims to enhance the recruitment and retention of employees. Since much of the workspaces are constructed on a consistently modular platform, the space is flexible enough to adjust to the firm's needs over time. Overall, the new space will surely have a lasting, positive effect on company morale.
GET IN TOUCH WITH US
Have an inquiry or some feedback for us? Fill out the form below to contact our team.