Logic Monitor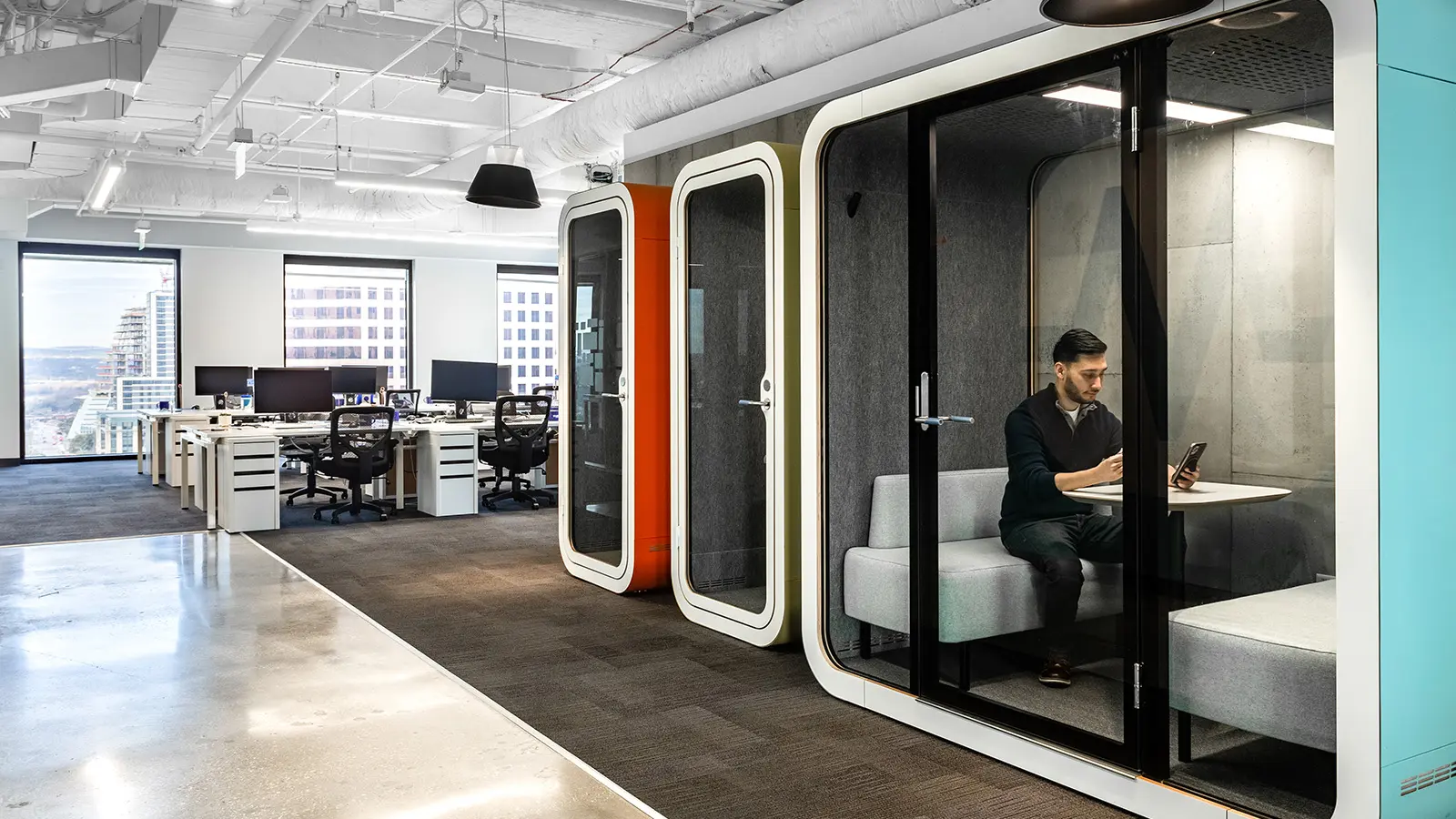 Home › Our Work Main › Projects › Logic Monitor
Logic Monitor
Full Line of Sight
LogicMonitor, a SaaS-based data center monitoring services firm, enlisted our team to help develop an interior architectural design complementing the company's branding and providing ample room for team collaboration and growth. That the interior architecture would unfold on two floors of the prestigious 98 San Jacinto Blvd. building in Austin, featuring floor-to-ceiling windows revealing impressing river views, gave us a fortuitous start to the remodeling project.
LogicMonitor expressed a desire for workplace architecture that would readily connect with their people, the company's most valued asset. Because the company prides itself on its technically innovative solutions and collaborative thinking, we aimed to create a built space that visually celebrated employees' technical contributions, while fueling their ability to work together and nurturing their collective productivity.
The atmosphere we created is strikingly modern, industrial, and sleek. Our design team played up the soaring ceilings with an open floor plan with gleaming white walls, black metal finishes on furnishings and lighting, wood floors, and an overall neutral color palette, all of which serve as an effective complement to the company's high-tech focus. Punctuating the neutral backdrop are the delightfully rich hues of LogicMonitor's corporate brand, which are reflected on upholstered couches and chairs. The splash of contrast adds warmth, invites cooperative engagement, and enhances a spirit of cooperation.
Just as delightful is the floor-to-ceiling windows, refreshing the space with light and a constant connection to the outdoors. The meeting and conference rooms all feature glass walls, and enclosed rooms, centralized so that employees have unobstructed views as they flow through the open office. Noticeably absent are opaque doors and closed-in areas, visually inspiring collaboration in an organic way.
Work zones are open to one another to encourage interaction. The central kitchen and break room double as meeting areas. The area can be partitioned with sliding screen doors or left open. Within the large, open space, work pods and room dividers create private spaces at will. This kind of flexibility blends well with LogicMonitor's emphasis on meeting their client's unique and changing needs at a high-performance level and progressing with advancing technology.
Now, LogicMonitor's employees and clients alike enjoy coming to an office that is bursting with a vibrant, inspiring vibe.
Photo Credit: Alex Tice Gray – Impressive Spaces Photography
GET IN TOUCH WITH US
Have an inquiry or some feedback for us? Fill out the form below to contact our team.