Golden Pass LNG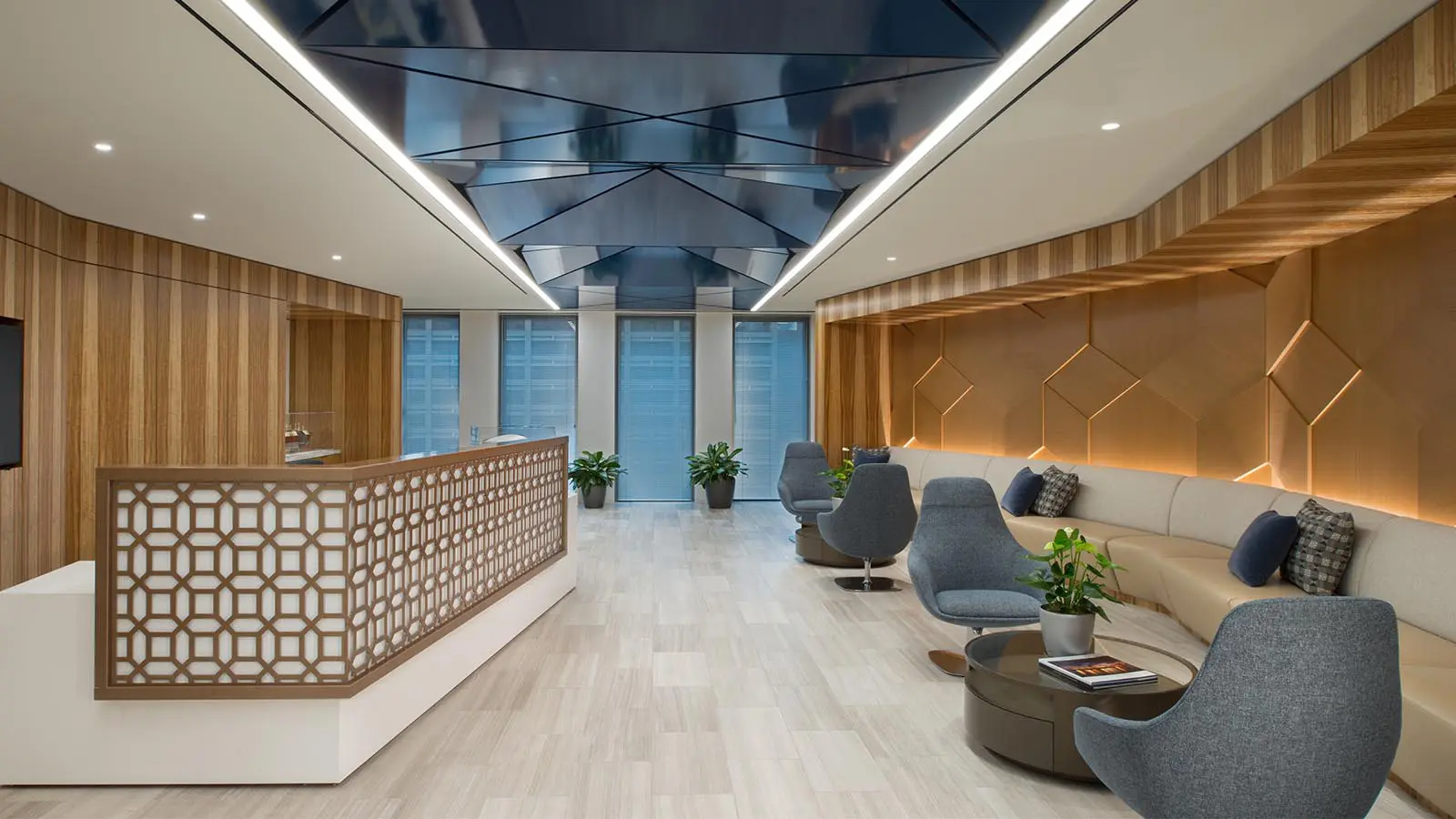 Home › Our Work › Projects › Golden Pass LNG
Golden Pass LNG
Speed and Cohesion – United to Pursue Success!
Golden Pass LNG was in the process of changing their entire business model – from importers to exporters (of Liquified Natural Gas). They needed to be able to adapt quickly and efficiently while remaining competitive and seeking innovative ways of working.
Golden Pass considered it a top priority to attract the best talent and enhance the company culture and values for their new headquarters in Houston, Texas. Their previous workplace was almost entirely absent of natural light except for the perimeter offices. It lacked areas to support culture and community through which to enhance collaboration and socializing. The Golden Pass brand was only present upon entry to the suite in the form of a sign in the reception area. President, Sean Ryan, was ready for change and leveraged the project for a new headquarters as a catalyst to promote speed and cohesion in the workplace.
It was important to the Golden Pass team that visiting Q'atari shareholders felt at home and welcomed in the new environment. Therefore, throughout the new office, there is a recognizable nod to Q'atari culture through the implementation of design principles such as pattern and texture seen in local Q'atari architecture. The reception and formal board room, as well as the Trade Floor, are show-stopping spaces, meant to make a powerful first impression on visiting dignitaries and executives as well as instill pride in the resident employees.
Project Details
Square Footage: 40,000 SF
Location: Houston, TX
PDR Team
COLLABORATORS
I.A. Naman
Cosentini
Mechdyne
Cushman & Wakefield
Harvey Builders
Putterman Scharck
OP Houston
Golden Pass wanted to encourage teamwork, create an open family-like atmosphere, and maintain safety and security. The office space is organized so the General, Pipeline, and Trading groups are separate per federal regulations. However, each group is joined with a central break room for employees to gather for townhalls, socialize, or for informal collaboration.
A variety of collaboration spaces are spread throughout for convenience, including large meeting rooms, huddle rooms, and focus/phone rooms. Meeting areas feature a variety of seating and collaboration tools with different layouts so employees can choose how to work or meet with teammates. By incorporating glass partitions and organizing open work areas and main paths of travel near the exterior glass windows, everyone has access to natural light and outdoor views.
Our attention to detail and thorough design processes allowed Golden Pass LNG to move into the new office environment without disrupting business.
GET IN TOUCH WITH US
Have an inquiry or some feedback for us? Fill out the form below to contact our team.