A Necessary Shift in Organizational Thinking
Today's organizations face uncharted territory when addressing their challenges. In the era of hybrid working styles, your workplace experience can be the key to helping attract, retain, and empower talent. However, cultivating an exemplary experience requires leaders to reframe their mindset, carefully considering how the needs of people align with the goals of their organization. It's about more than offering employees great amenities or flexible workspaces, because an office is entirely arbitrary without a carefully considered throughline of purpose. It takes vision to transform the ordinary into the extraordinary.
As outlined in the previous discussions of Experience Strategy, leaders are responsible for championing how a physical space exemplifies their purpose, vision, and values, and as a result, establishes culture. An ideal space is one that allows employees to connect, share knowledge, and achieve their best work. But more importantly, purpose-driven design, paired with renewed policies, helps the organization achieve its goals.
To help our clients realize their space's Experience potential, we fully immerse ourselves into the organization through a series of exercises with leadership and staff, allowing us to better understand their challenges, pain points, and desires. As a result, we're able to create a holistic solution that accounts for each client's unique challenges and addresses how they can achieve their vision.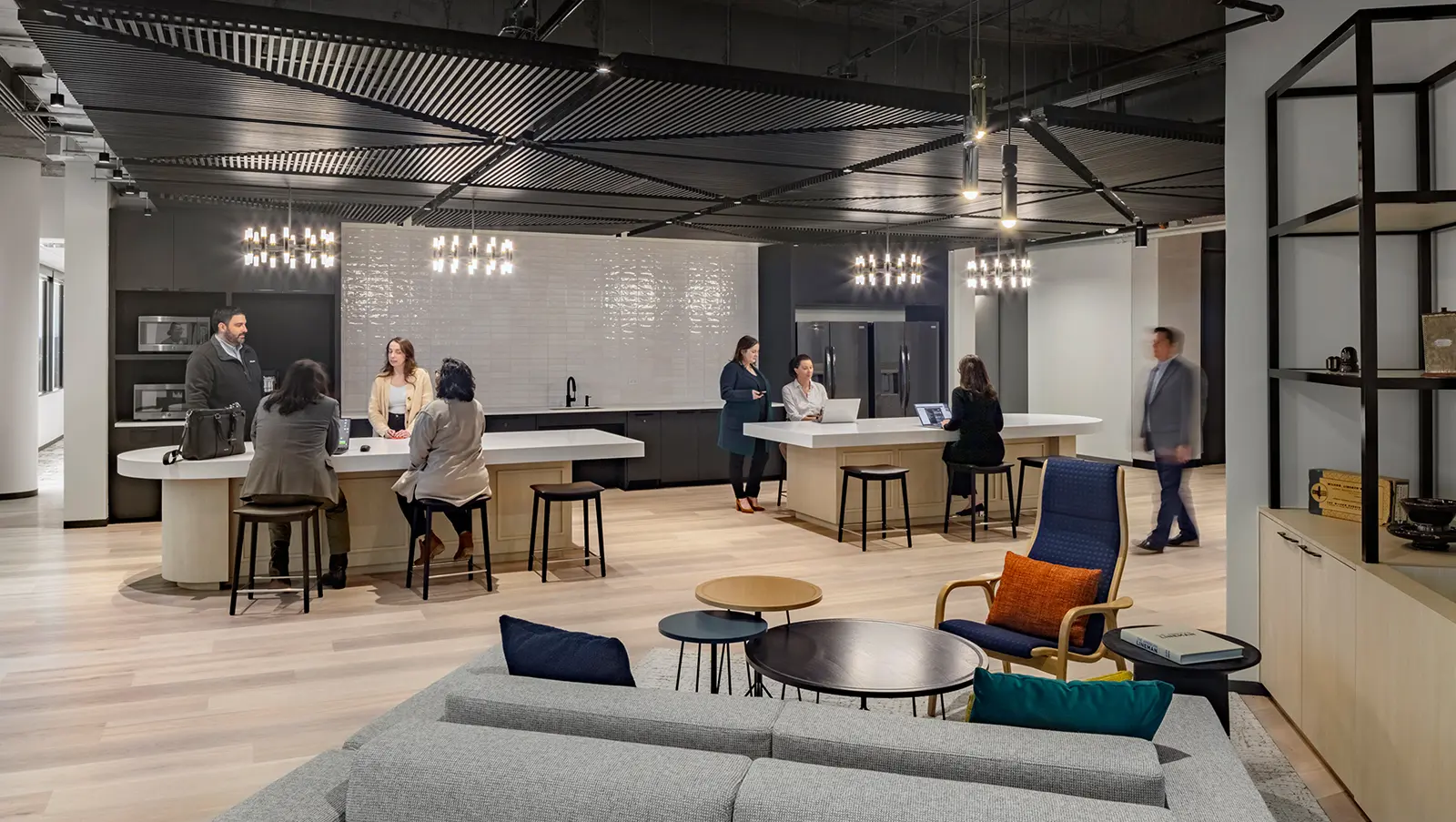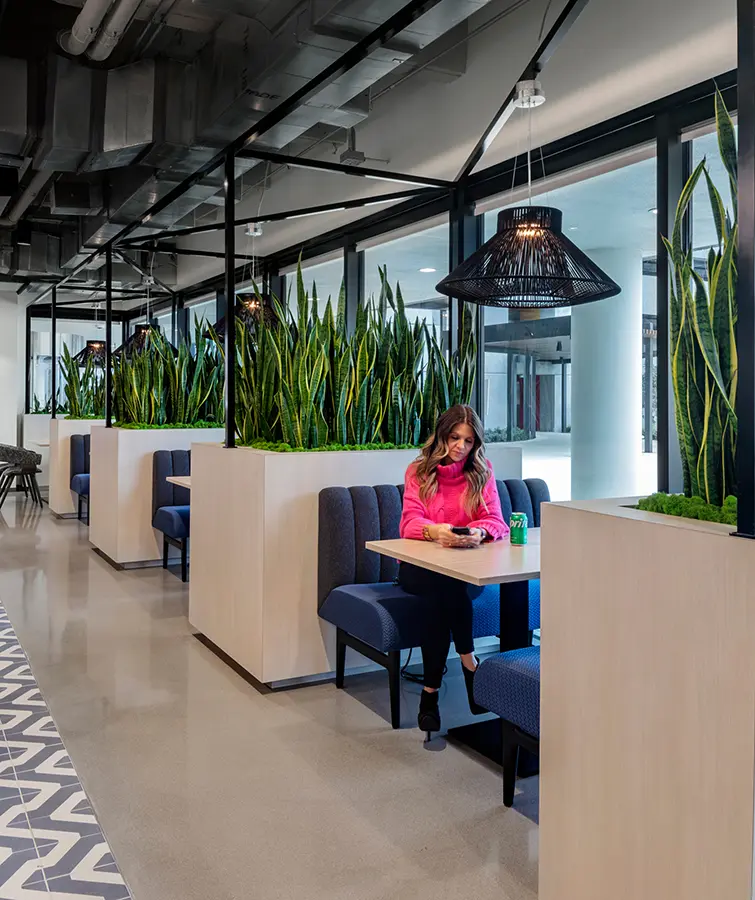 Visioning in Action
Infusing purpose into design should occur early in the design process, as it did for our Infrastructure Solutions Client, who found themselves struggling after instituting a hybrid working policy. Despite their office amenities, employees weren't regularly choosing to work in the office. This was troubling, as they understood that in-office time leads to collaboration and engagement between employees, which in turn influences team cohesion, and ultimately, yields stronger work. The organization knew the significance of creating a strong employee experience, but they weren't entirely sure how their space should be leveraged to achieve it. To solve these challenges, we took them through our intent-driven Visioning Session designed to unify purpose, culture, and design.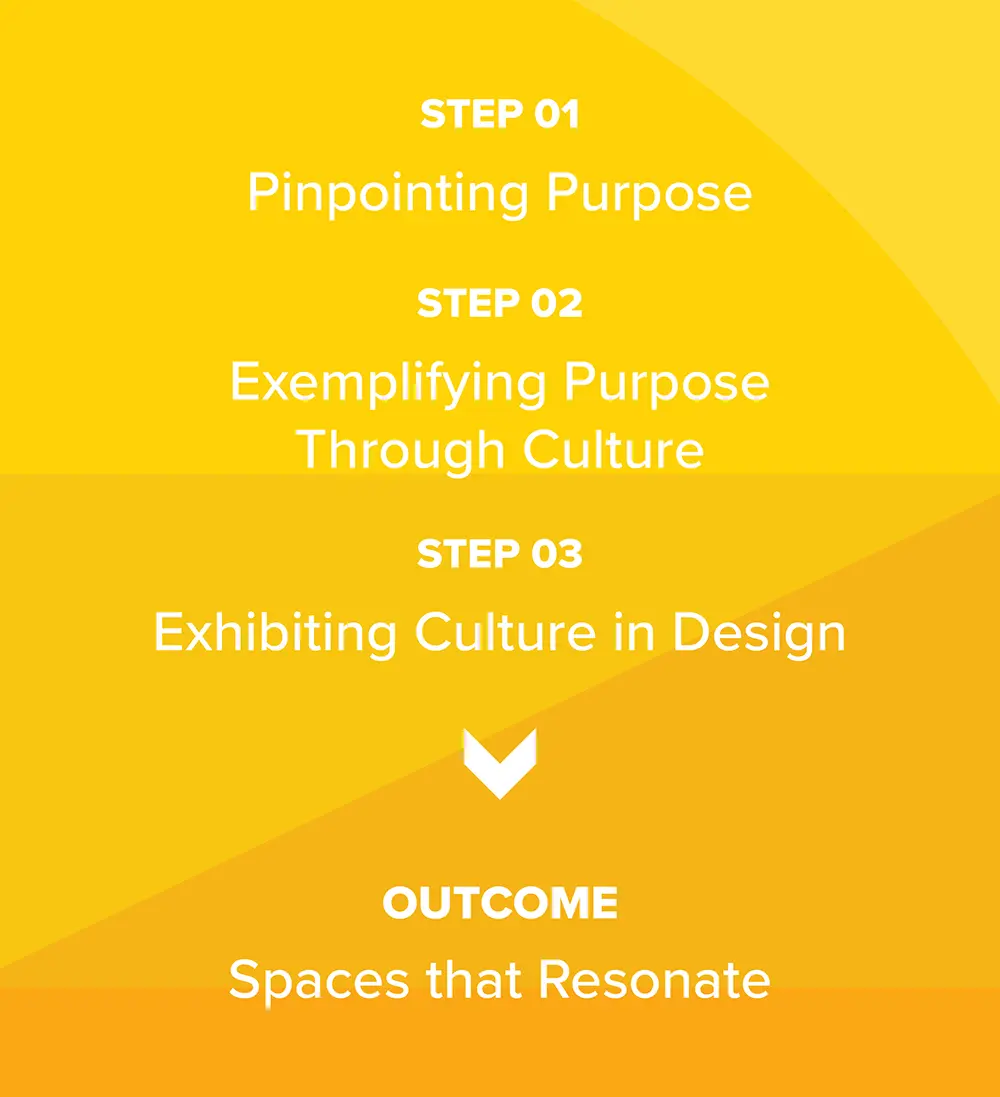 Pinpointing Purpose
We often find organizations either devalue the importance of their purpose, or leadership isn't fully aligned with their purpose. Solving this lack of understanding is the primary objective of our initial Visioning work, as we aim to pinpoint what matters most to the organization in a way that aligns the organization's leaders and clarifies the need for a distinct purpose.
We do this by talking through a series of proprietary Universal Business Imperatives—a set of 10 critical attributes and challenges vital to an organization's success. These Imperatives are designed to get teams into an active, problem-solving mindset, with each option representing a different theme or goal that serves the company's purpose. When reviewing these with our Infrastructure Solutions Client, it became clear they wanted to incorporate meaningful cultural growth with a resilient workplace capable of adapting to modern ways of working, selecting Synergy, Agility, and Purpose as their greatest priorities.
Exemplifying Purpose Through Culture
With a clear understanding of the client's primary drivers, we transitioned into understanding the ideal behavioral culture they wanted their team to exhibit. To do so, we asked the team to think deeply about the specific words they believe illustrated how their purpose and culture could manifest in daily activities.
This exercise highlights the importance of intentionality, asking participants to think both idealistically and practically. For instance, many organizations talk about creating a culture-centric workplace, but few take the time to think about how that shows up in practice. This exercise helped us identify a desire for a friendly, comfortable environment that facilitates mentorship and productivity, all of which we incorporated into our design solutions.
Exhibiting Culture in Design
What does a workplace that has Synergy, Agility and Purpose feel like? Building on the purpose and cultural concepts explored, we completed our client's Visioning Session with a design imagery exercise aimed at honing the desired design aesthetic for their future high-performance, efficient, and culture-driven workplace. In their case, this came to fruition through the inclusion of warm, open, and flexible spaces – all traits integral to the creation of a positive, employee-driven culture.
Through our Visioning Sessions, our Infrastructure Solutions Client's purpose can be seen throughout their workspace. Their design connects purpose to culture through tangible design, leveraging opportunities for employee engagement and connection alongside organizational synergy.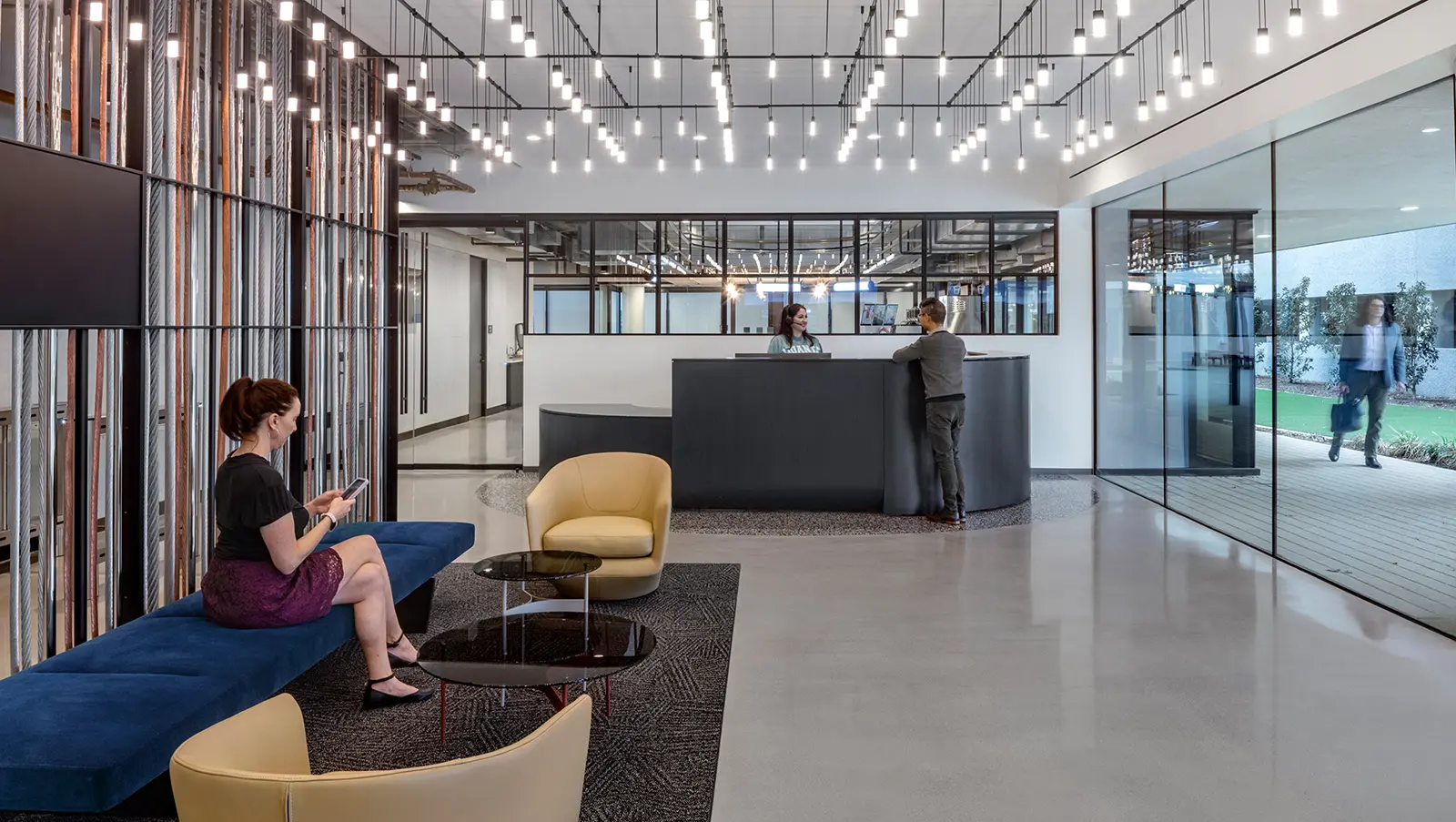 A Vision for a Better Future
Our Visioning Process isn't just about providing clients with a design they'll love. It's about infusing our client's spaces with their business-driven purpose and providing employees with the types of experiences that will make them want to be in the office. This can only be done by taking the time to truly understand the individual challenges an organization is facing and aligning them in their desired state.
Because design preferences and workstyles might change, building a strong Experience Strategy is paramount to guaranteeing your space provides emotive, connective, and memorable experience that people crave. It ensures you are maximizing the full potential of your space in captivating your visitors, enticing them to return, and turning them into advocates.
Is your organization doing everything it can to create an exemplary experience through a strong Employee Experience? Whether you're looking to design a new space or breathe fresh life into your existing workspace, we are here to help. Reach out today if you're interested in learning more about how our visioning process can guide your journey.
Laura Beth Mertz
Design Director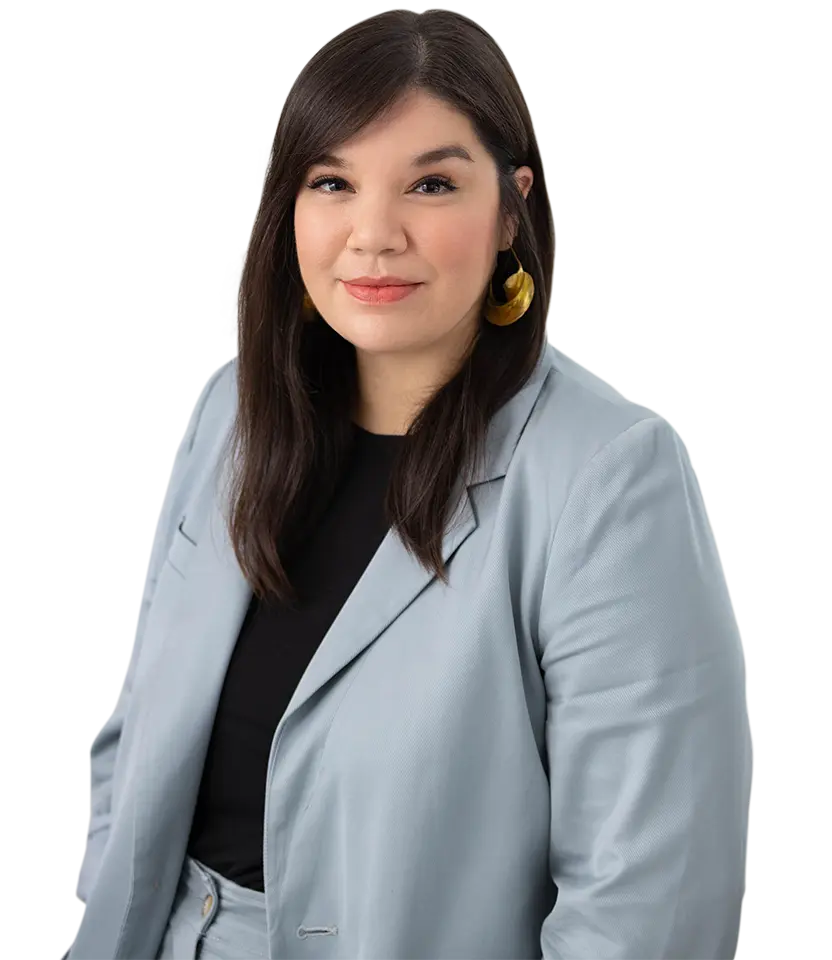 Learn to Build a Better Strategy!