Home › Our Voice › Articles › The Energy Needed Behind the Energy Transition
The Energy Needed Behind the Energy Transition
A fun bit of trivia for you—the home of our corporate headquarters in Houston, Texas has retained the title of Energy Capital of the World since the early 20th century. Nearly half of the state's total production of crude oil comes from its ten refineries. Our city boasts 4,600 energy-related businesses and is home to 40% of all publicly traded oil and gas companies.
Being based among these energy giants means we've had over 40 years of collaboration and worked alongside them to create flexible and enduring workplace solutions that continue to bolster their company goals, positively impact their people, and continue to generate value over time.
Now, as the world transitions to renewable energy resources with greater insistence on green technologies, we've seen our energy clients refocusing their intellectual, material, and production investments to meet the rising demand for alternatives to fossil fuels.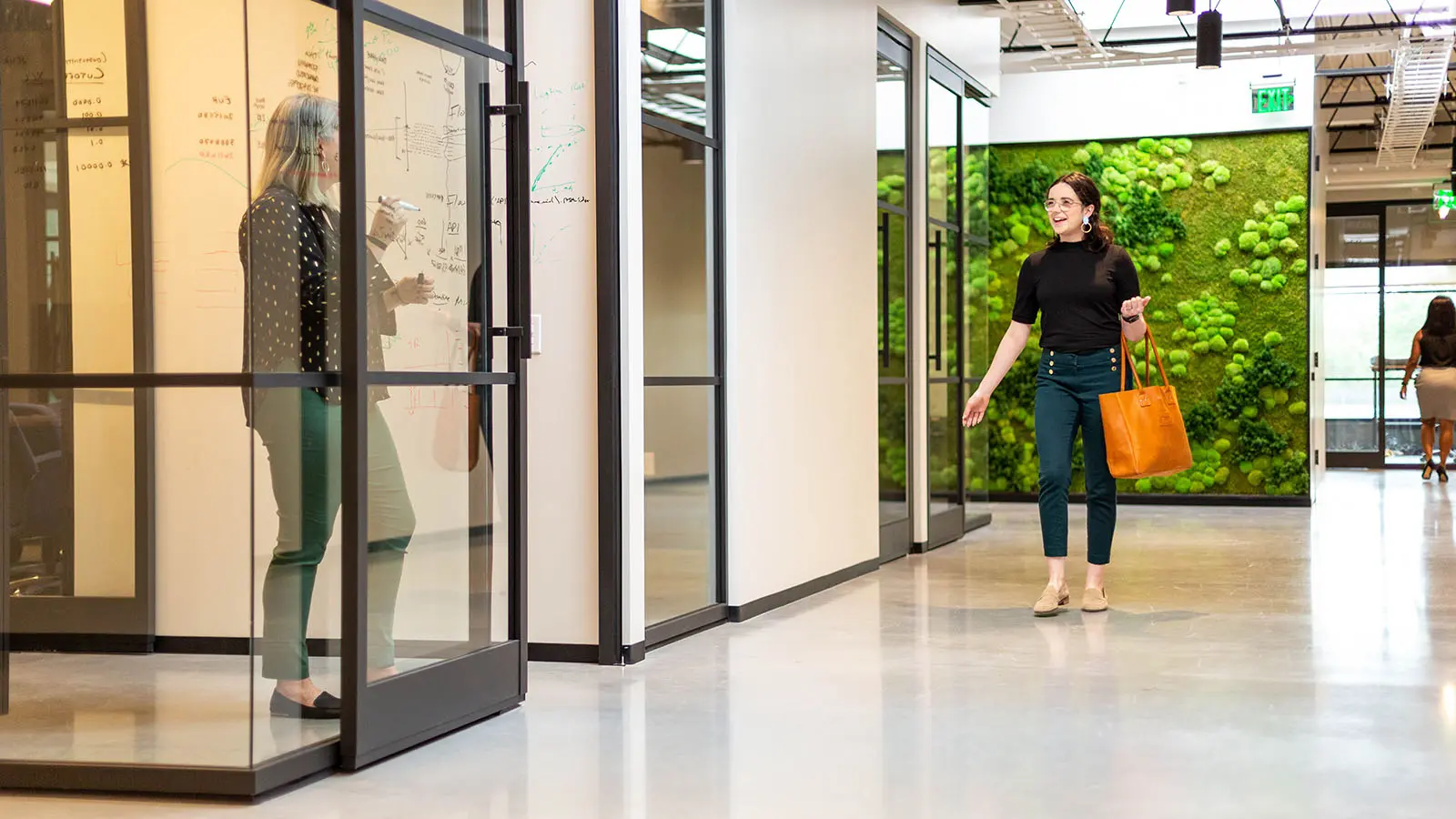 With Houston shifting from the Energy Capital to the Energy Transition Capital, we recognize the challenges that oil and gas companies face as they prepare for this massive paradigm shift. As the nation, and the world, move toward decarbonization and emission abatement, energy companies will have a tremendous influence on how, when, and how fast the advances toward this end take place. The great minds and the technological developments necessary for success must be fully supported by work environments that help companies achieve their aims. We believe that the focus on new energy sources calls for new energy in the office, too. In this vein, we are helping our clients leapfrog over challenges by designing new dynamic spaces, uniquely suited to help shift mindsets and amplify creative innovation. These workplaces will help bridge the gap between Houston's energy heritage and the future energy industry.
New energy workplaces need to be incubators to promote different ways of thinking. To help energy companies establish their visions for the future of work, we collaborate with each client to sort out the company's value proposition, image, and direction. We challenge thinking to help break them out of traditional concepts of what makes an ideal workplace and create human-centered environments that foster the kinds of significant, cutting-edge thinking and productive interactions that will accelerate their transformation.
In tandem with evolving employee demands for more work/life balance, we find that companies are seeking more flexible spaces that can accommodate routine, head-down tasks, and opportunities for collective brainstorming. Our dynamic programming works to ensure there are ample spaces for employees to chill out, relax, eat, and enjoy the day.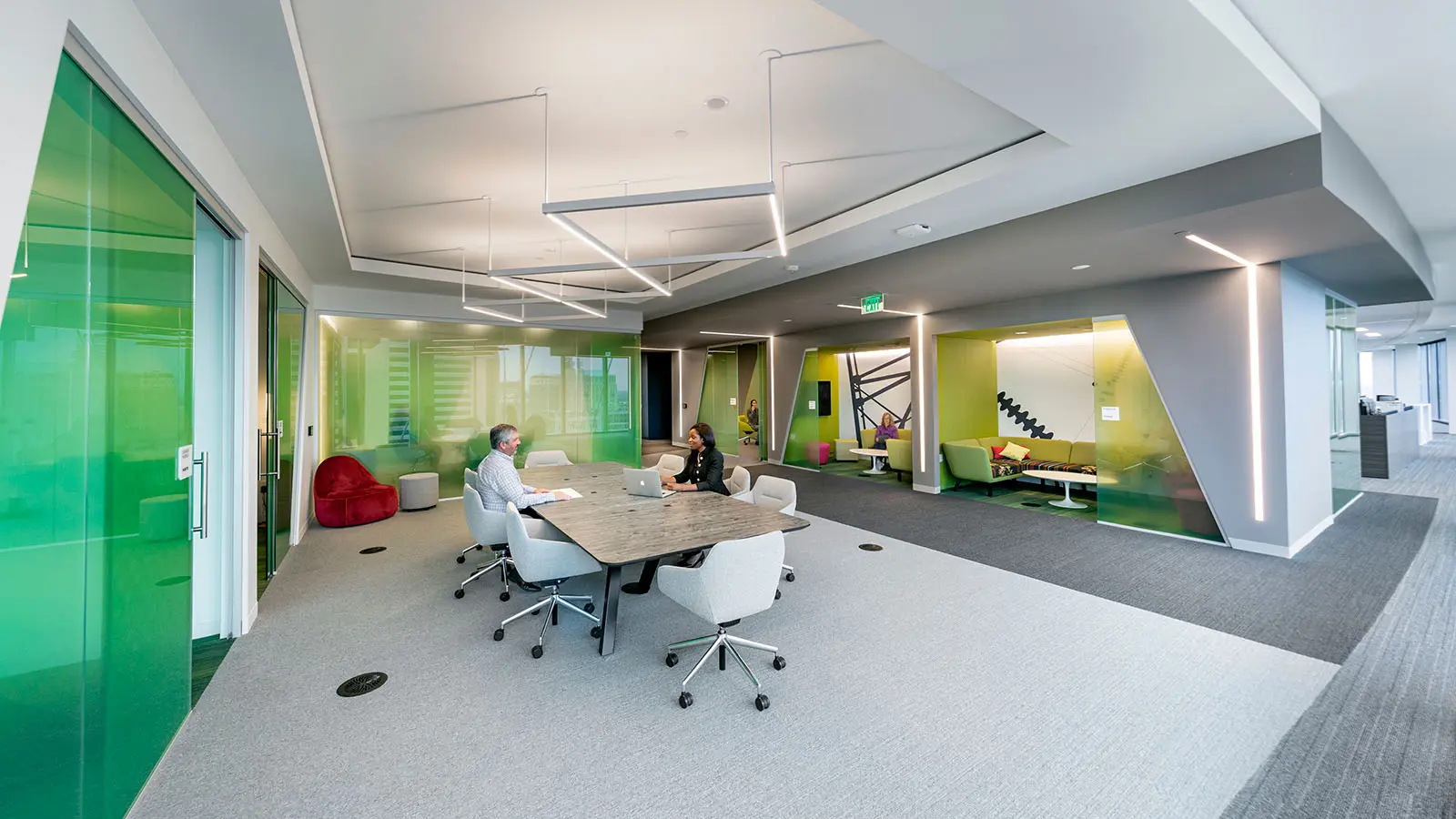 Adding to the complexity of this change are the higher-level goals that transitioning energy companies place on environmental, social, and governance (ESG) goals. There is pressure to reduce the facility's own carbon footprint, one that must be considered when tackling a workplace design.
Seeing the big, corporate picture while pinpointing the definitive details that maximize creativity, productivity, and worker happiness allows energy companies to move at the breakneck pace needed to evolve in their changing industry.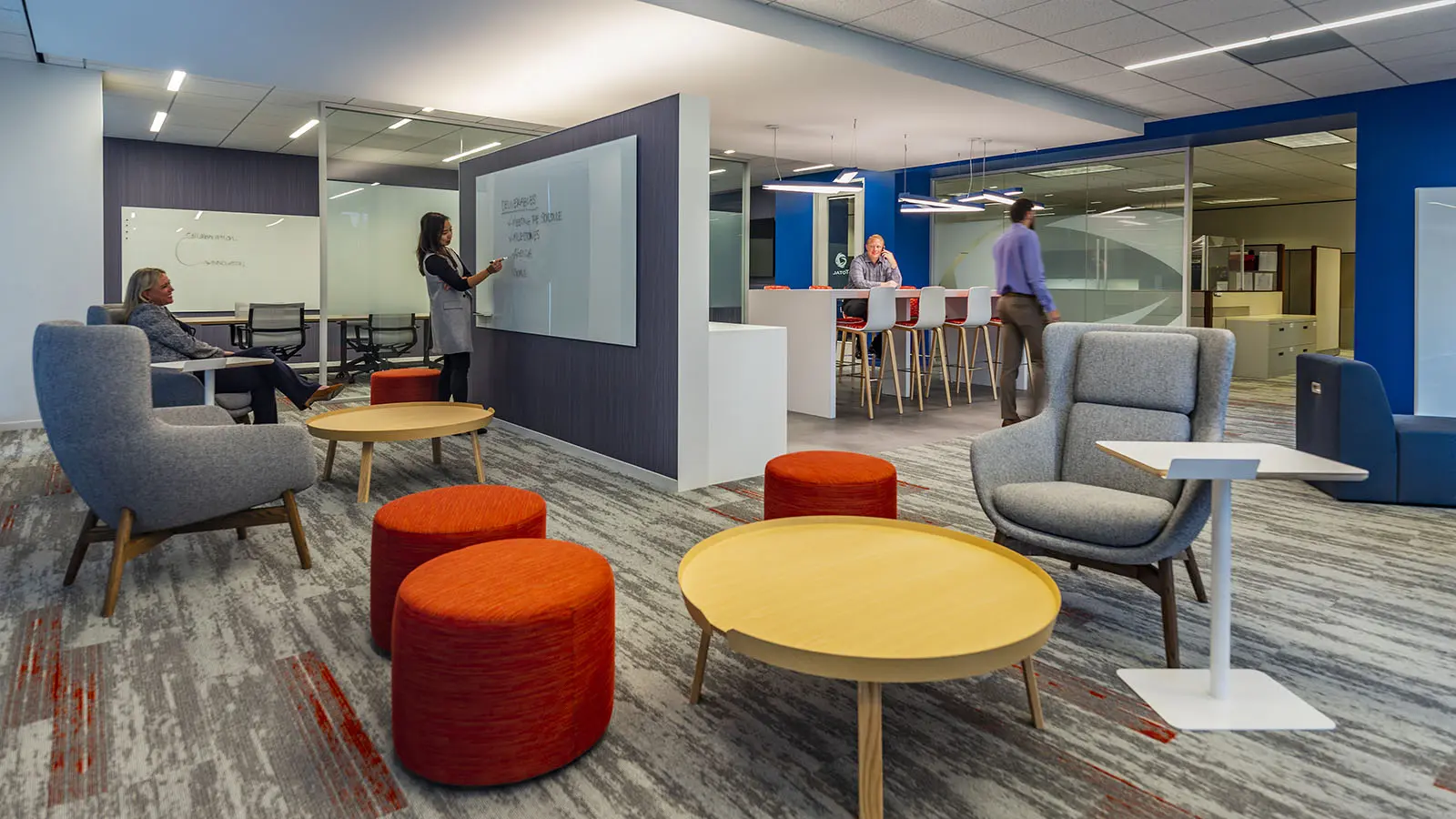 In today's atmosphere uncertainties, combined with pressures to innovate and out-perform, energy companies cannot afford to waste space and land. The architecture needs to account for that, while the interior design must accommodate the work that needs to be done while still being a space in which people love to work and are welcomed as an asset to the community. We're certain about this and we know how to make it happen through sustainable design principles.