Home › Our Voice › Articles › The Diversity Gap in the Design Industry
The Diversity Gap in the Design Industry
February was established as Black History Month over 50 years ago but for the first time conversations are finally taking place outside of the Black community about the importance of diversity and how to bring an end to the racism that occurs in every facet of life. According to the US Census Bureau the US population is 61% white, 13% African American, 18% Hispanic/LatinX, 6% Asian, and 1% Native American. In contrast, AIA (American Institute of Architects) members are 67% white, 2% African American, 5% Hispanic/LatinX, 6% Asian, and less than 1% Native American.
A lack of representation by people of color within the design and architecture community is a cyclical problem. To first consider design or architecture as a career, students need to be exposed to the idea early on. Most young people with the aptitude and talent for a career in design or architecture but without exposure to anyone in the field will often go into other demanding areas, such as medicine or law. Students of color that do go on to study design/architecture find a lack of diversity at the college level, long before they are out working in the industry. Design/architecture faculty in the US are primarily white (71%) and only 8% Hispanic/LatinX, 7% Asian, and just 3% Black. Of course, these gaps are carried through into the professional world where most of the people in leadership roles in design firms are also white. Without diverse professionals in the organization attracting students of color, the cycle continues. Without role models that look like them, it is difficult for young aspiring designers of color to envision themselves in these roles and it can be isolating to be constantly in the minority.
There are several organizations across the US that are devoted to increasing awareness and diversity within the industry. The ACE (Architecture-Construction-Engineering) Mentor program is a free after-school program designed to attract high school students to ACE fields through mentorship with professionals in the industry, scholarships, and events like mock projects. Most participants identify as POC and a third are female. National Organization of Minority Architects (NOMA) is a 900-member strong (and growing) organization with both professional and student chapters. One of their many initiatives, Project Pipeline, is a summer camp for middle and high school students that are underrepresented in the design field and teaches them the fundamentals of design. Named for the 400th black woman to earn an architecture license, 400 Forward aims to lift up the next generation of black female architects through workshops, scholarships, exhibitions, campus visits, and firm visits.
Significant change will depend on equitable solutions taking place inside design and architecture firms as well. Organizations will need to make a commitment to recruit from and even consider offering scholarships to students from HBCUs. Paid Internships broaden the talent pool and open doors to more diverse candidates from different backgrounds. Unpaid internships can limit the talent pool by potentially attracting designers and architects that come from a more privileged background or that have a support system that can help them financially. Implementing Diversity and Inclusion programs within organizations can help support designers and architects of color in feeling welcomed and valued. Businesses can ensure that their program and policies address avenues and safe places for employees of all backgrounds to speak up and voice their concerns. Some firms in the industry are bringing diversity & inclusion experts or advisors on to their HR teams to help identify areas for improvement and develop solutions that eliminate implicit bias in business practices.
Design should be for everyone. We cannot claim to take a "human-centered" approach to design if our solutions are not a reflection of all humans. Currently, most of the designers and architects working today do not adequately represent our end users. Inclusive design is not possible without the varying experiences and perspectives that come from a diverse industry.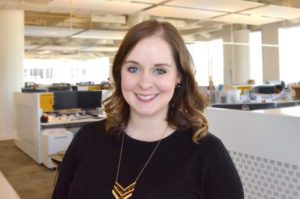 Katy is an experienced designer and works closely with clients, project architects, and team members. She develops programming requirements, conducts visioning sessions, creates technical space programs, and design concepts on projects. Katy has extensive experience developing finish palettes and coordinating with lighting consultants, MEP engineers, and structural engineers. Katy's projects typically include an extensive furniture component. Through this process, Katy guides her clients through showroom tours, specifies furniture and furniture finishes, and coordinates furniture mock-ups. Her wide variety of project experience ensures ultimate client satisfaction.