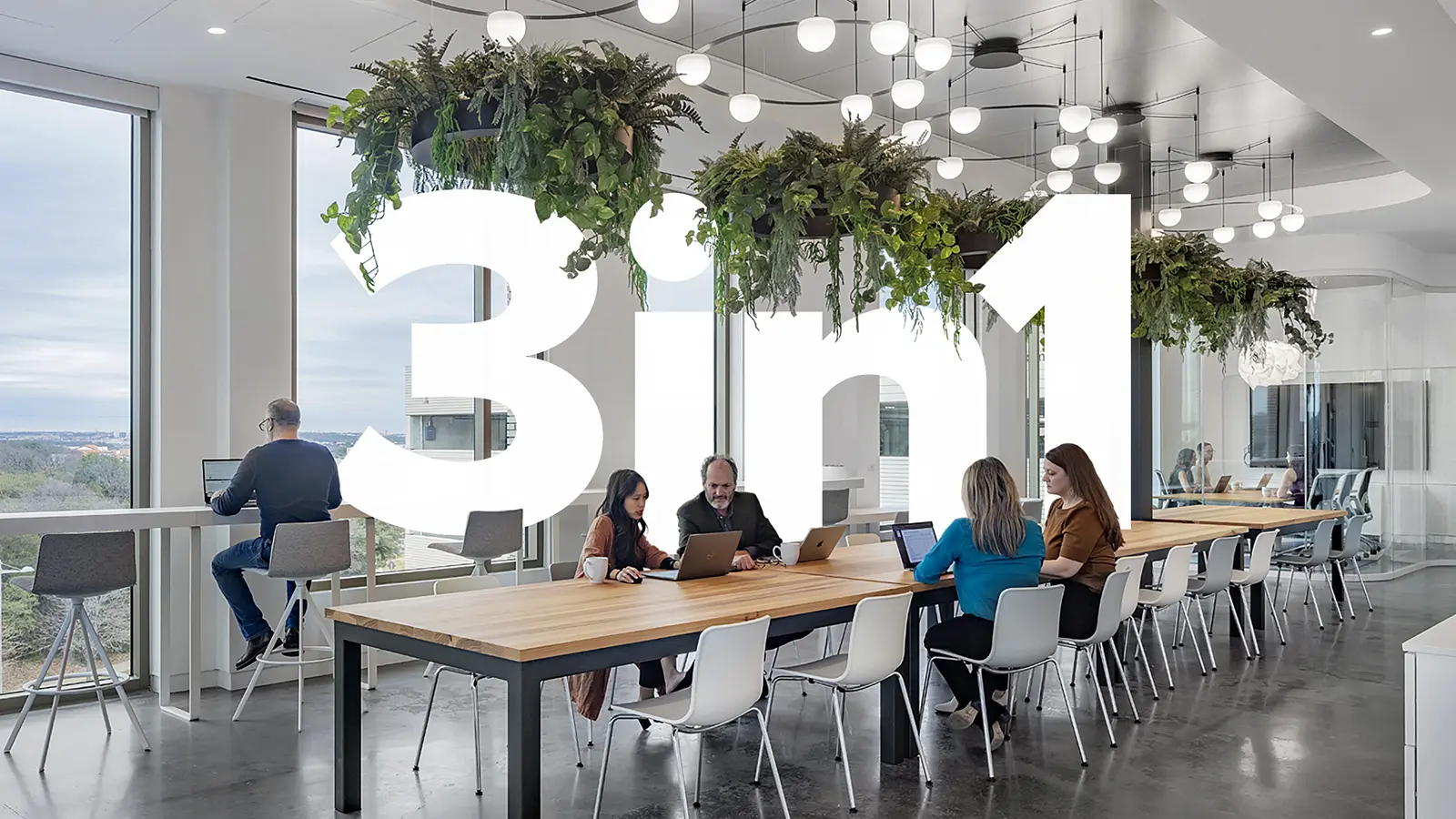 As we continue our exploration of Experience Strategy, we want to offer you a practical view of how any organization can create a 3in1 experience that supports business goals and activates connection, emotion, and memory to build visitor loyalty. With more ways to spend time and money, people expect more from their spaces, whether they're offices, restaurants, community complexes, or healthcare practices. They want something unique, relevant, and captivating that supports their needs and leaves an impression, long after they leave.
Earlier this year, we outlined what an Experience Strategy is and why organizations need one. Our work designing Ottobock's North American Headquarters and Flagship Clinic is an ideal case study for what the crafting of an Experience Strategy can look like.
As a global leader in prosthetics, Ottobock's mission is to help its patients maintain or regain their freedom of movement. To support this mission, we knew Ottobock's Experience Strategy had to be intentionally tailored to create a 3in1 experience to serve the three primary users of its space—patients, patients' loved ones, and employees. The result is an experience that supports each user group while cohesively weaving in the business' values.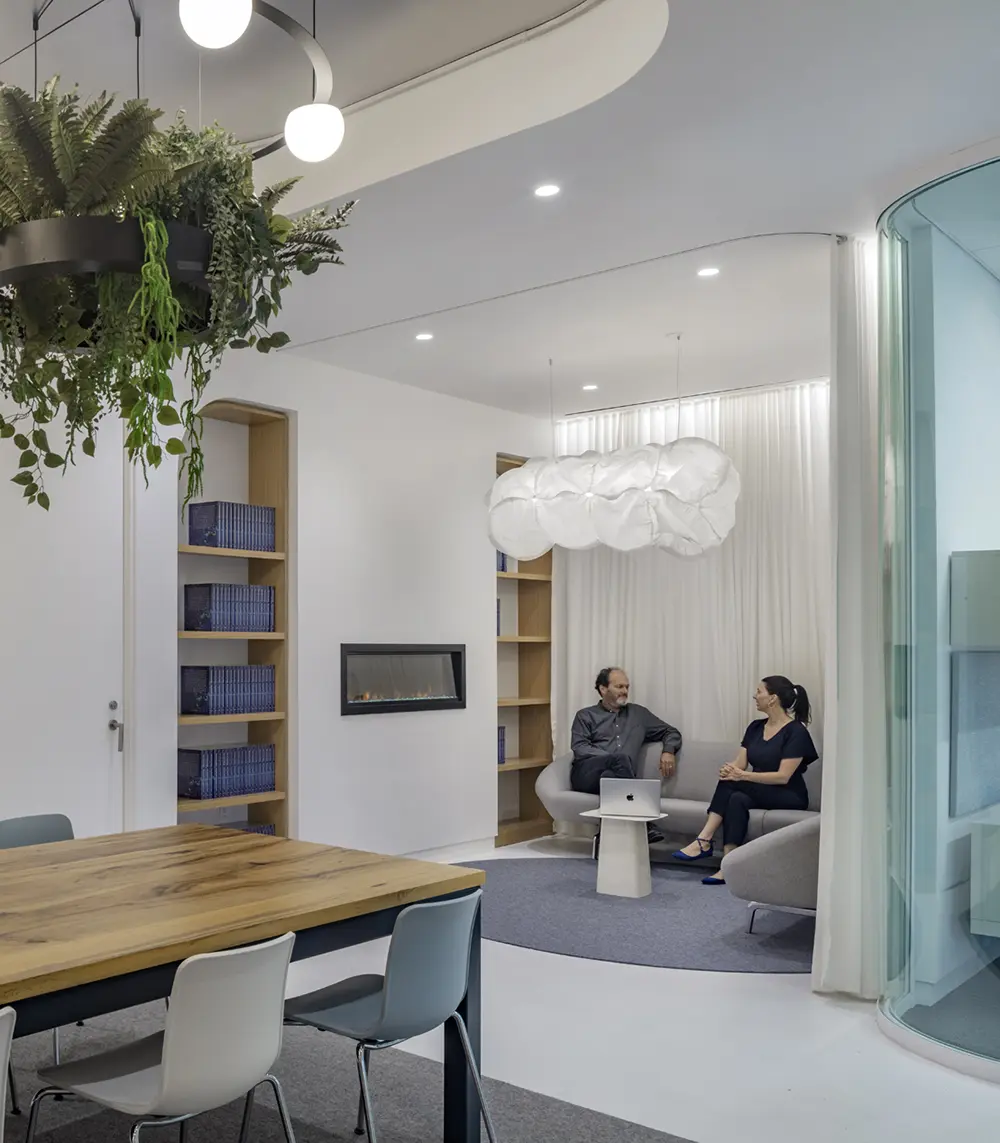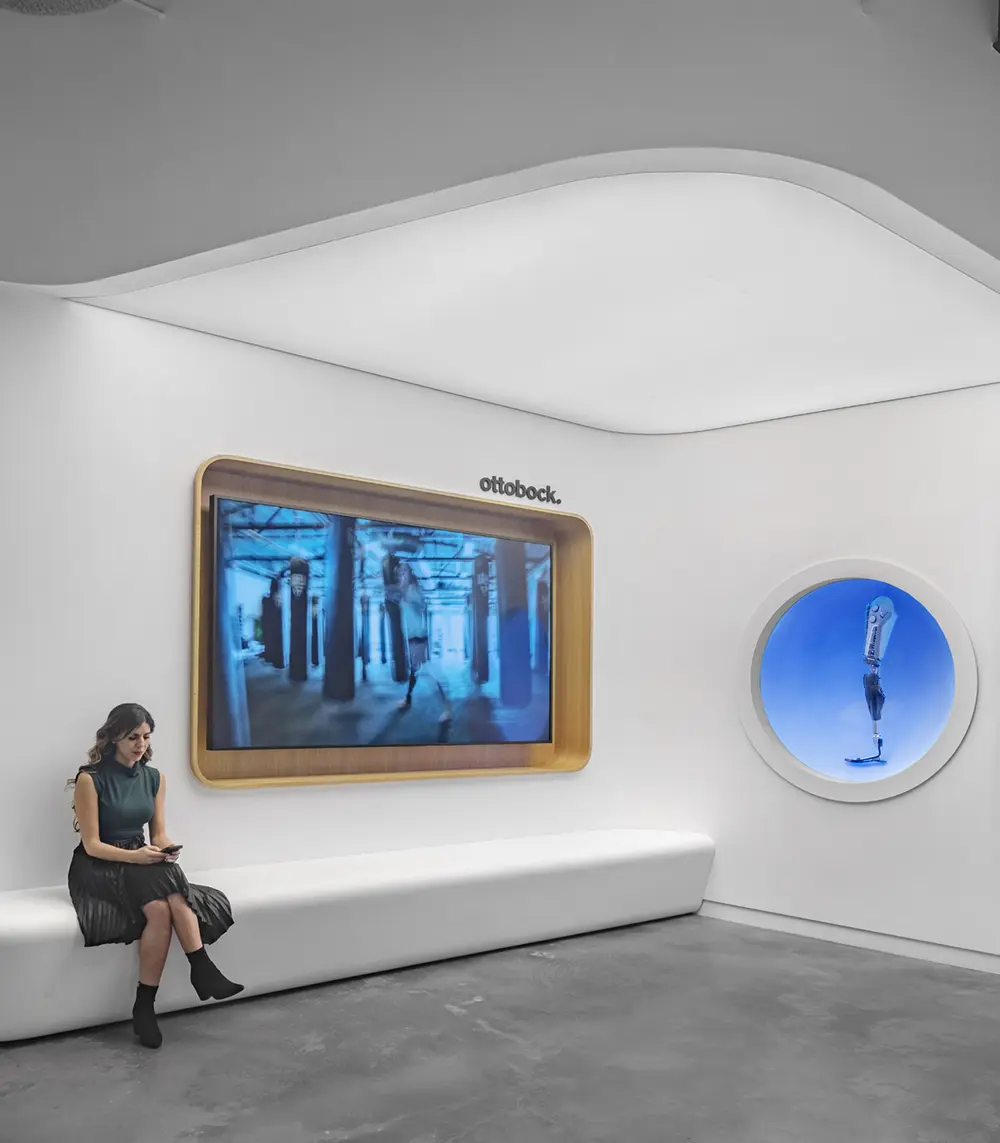 IMMEDIATELY SET THE TONE
THE PROMENADE
First impressions are paramount, so your space's entry needs to lay the foundation for the experience you're trying to curate. It needs to evoke the proper emotions, surprise the visitor with something unique, and leave an impression.
The entry into Ottobock is designed to promote feelings of calm, trust, hope, and community for those walking through the front door. Once you enter, you're met with a living timeline of Ottobock's rich history and walls featuring vibrant images of real patients using actual products. Their strategic placement offers snapshots of inspiration to patients and fosters connection. For employees, this same timeline instills a sense of pride, reminding them of the direct impact of their work. Moving through the promenade, you'll see a reception desk purposely placed to serve as a welcome area and directional landmark, immediately creating ease by orienting visitors and staff.
As a final strategy to enhance the feeling of inclusion, we incorporated smooth lines in the design and avoided hard transition points. While a nod to the futuristic style of Ottobock's products, this is yet another Experience Strategy element used to elicit emotion. By ensuring moving through the space is easy and accessible for all visitors, we were able to continue to reinforce a sense of calm.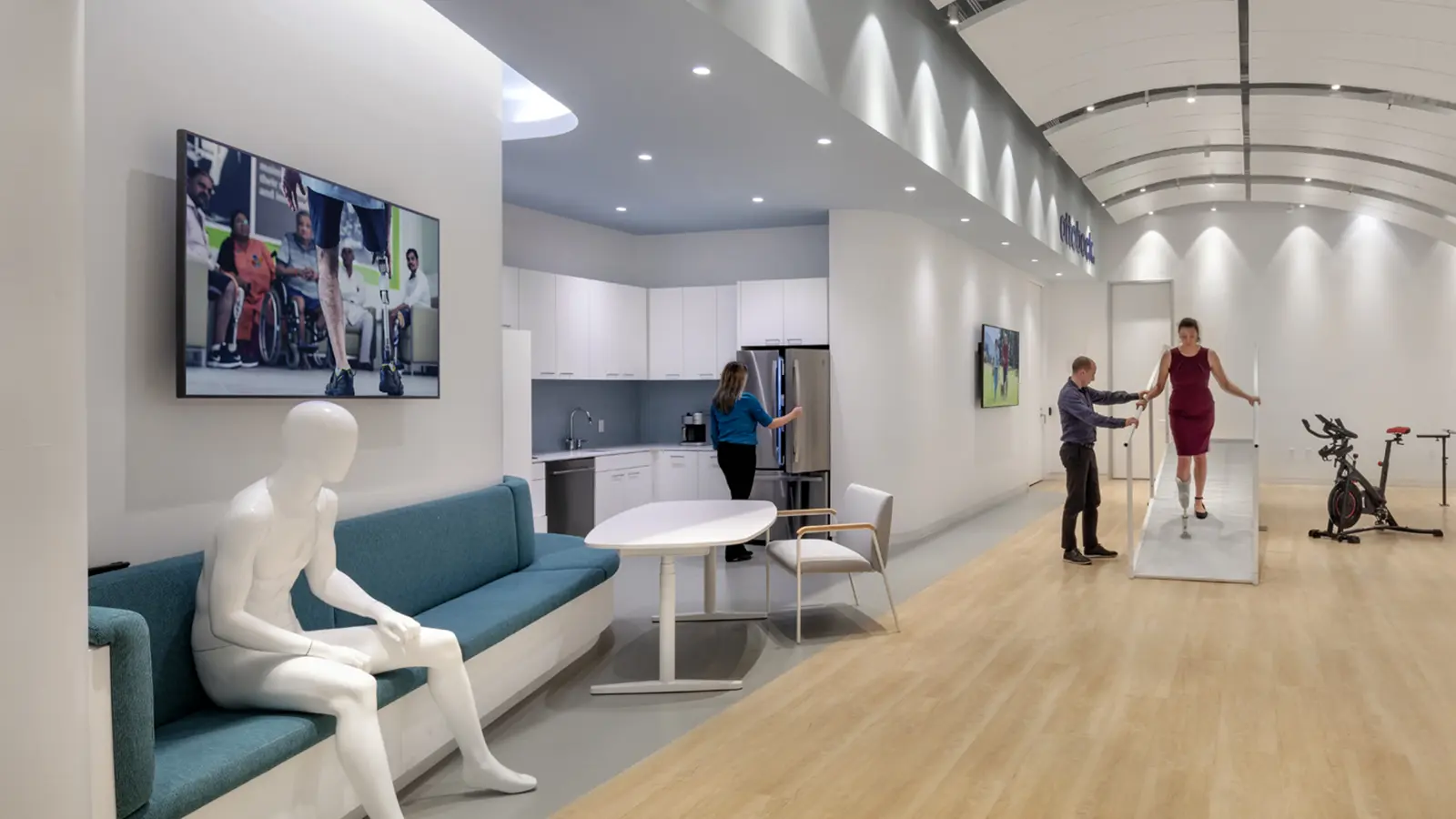 Ottobock's headquarters and clinic needed to support their purpose, by helping to improve the lives entrusted to them. We did this by cultivating a clinic experience infused with hospitality principles.
ILLUSTRATING YOUR PURPOSE
THE GAIT ROOM
Your Experience Strategy needs to be driven by your organization's goals, and your space needs to communicate those goals to your visitors. This is how you foster brand alignment, enhance connection, and turn visitors into advocates. Ottobock's headquarters and clinic needed to support their purpose—helping to improve the lives entrusted to them. We did this by cultivating the ideal clinic space infused with hospitality principles designed to leave a lasting impression.
As you walk into the clinic you're met with warm tones and lush plant life, a contrast to the standard cold and impersonal clinic aesthetic. Our break from traditional clinic design helps patients feel welcome and comfortable, supporting the idea that the space is their own.
Inside the clinic area, you'll see the expansive Gait Room, where patients and those accompanying them will spend the bulk of their time. We finetuned this area's experience, making sure it creates a sense of safety, comfort, and support. While the space is equipped for prosthetic fitting and basic movement training, we enhanced it to include a multipurpose kitchen and laundry area. Primarily, these are used by patients who need practice performing everyday tasks. But they can also be leveraged by the patient's friends and family, who are often waiting while prosthetic fittings and training take place. These areas serve to elevate the patient's support team experience by further infusing their experience with hospitality. Combined, these Experience Strategy elements evoke emotion, created a sense of belonging in visitors, and help create a positive and memorable engagement.
Finally, as you exit the space, you're invited to leave your own impression on a space that has left an impression on you.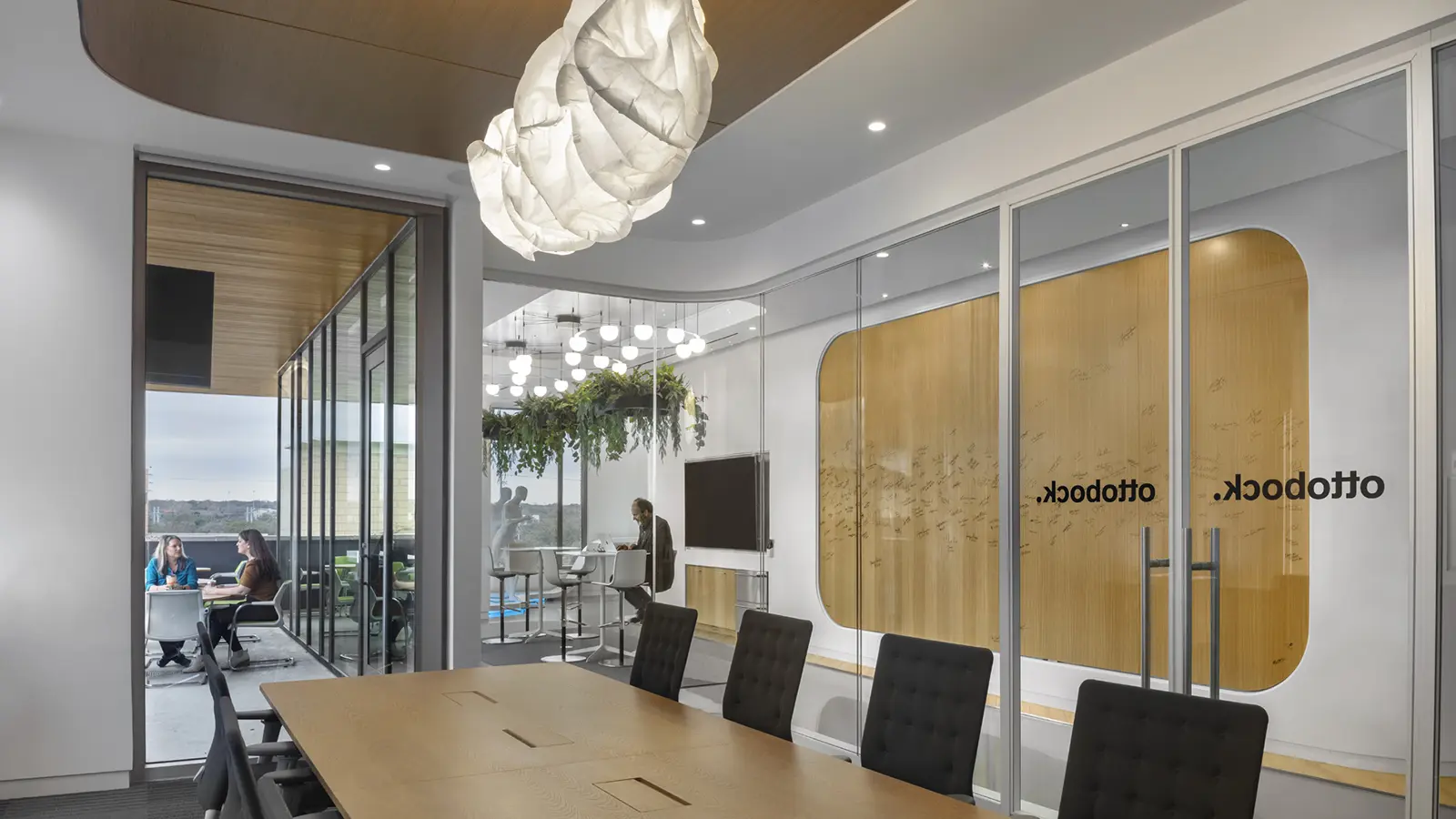 ACCOUNT FOR THE EMPLOYEES
THE 4TH FLOOR
We see it all too often, especially in the healthcare industry. Your curated experience addresses the needs of your visitors but fails to consider that of your employees. As a vital resource, your people should be equally supported by your Experience Strategy, and it should act as a magnet between your team and your offices.
For Ottobock, we worked to ensure their team's experience was as emotive, connective, and memorable as their patient experience. As you move from the clinic to the 4th floor you'll find Ottobock's North American Headquarters. While the 1st floor aims at creating a connection among patients, the 4th floor speaks to the employees through the strategic displaying of Ottobock's product ingenuity. Our design incorporated walls of interactive displays, giving employees the opportunity to learn about the technical aspects of their products in a hands-on way. This area was crafted to evoke company pride and reinforces the overarching Ottobock mission of improving lives. It serves as a daily reminder to employees that their hard work enables tangible and transformative innovation.
To specifically support the work of the team, you'll see areas throughout the office designed to promote brainstorming and encourage collaboration. These spaces leverage the open design to encourage frequent, ongoing dialogue to foster team connections.
Finally, as you exit the space, you're invited to leave your own impression on a space that has left an impression on you. We installed two large signature boards – one on the 1st floor and one on the 4th floor – where employees and guests are invited to leave hopeful and encouraging messages for future readers.
The crafting of a thoughtful Experience Strategy helps Ottobock create a 3in1 experience that permeates throughout, setting a positive tone, establishing a sense of belonging, and building visitor loyalty that carries throughout the building.
HOW'S YOUR SPACE'S EXPERIENCE?
Challenged for where to begin in your own Experience Strategy evaluation? It's helpful to start at the beginning, with your space's first impression.
Does Your Space's First Impression:
Communicate the true essence of your organization. This should go beyond your logo on the wall.

Offer something unique and distinctive that will stay with users. Or does it look like a half dozen spaces they've seen before?

Immediately evoke the vibe you're striving to create—be it invigorating, trustworthy, calming, or inspiring.

Include a distinct landmark or indication of how to move through the space. Think of directional signage or clear indications of how to find what they could be looking for.
Interested in talking through your space's first impression and elevating your space's experience?
Amy Collins
Principal, Director of Design
Design + Architecture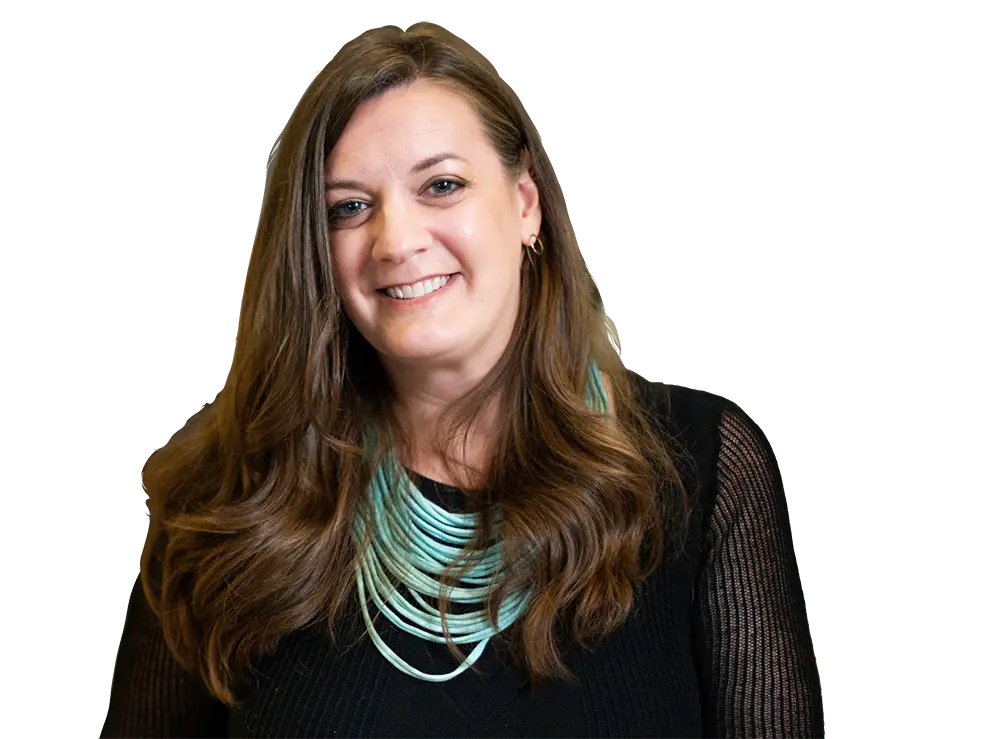 Learn to Build a Better Strategy!