United Rentals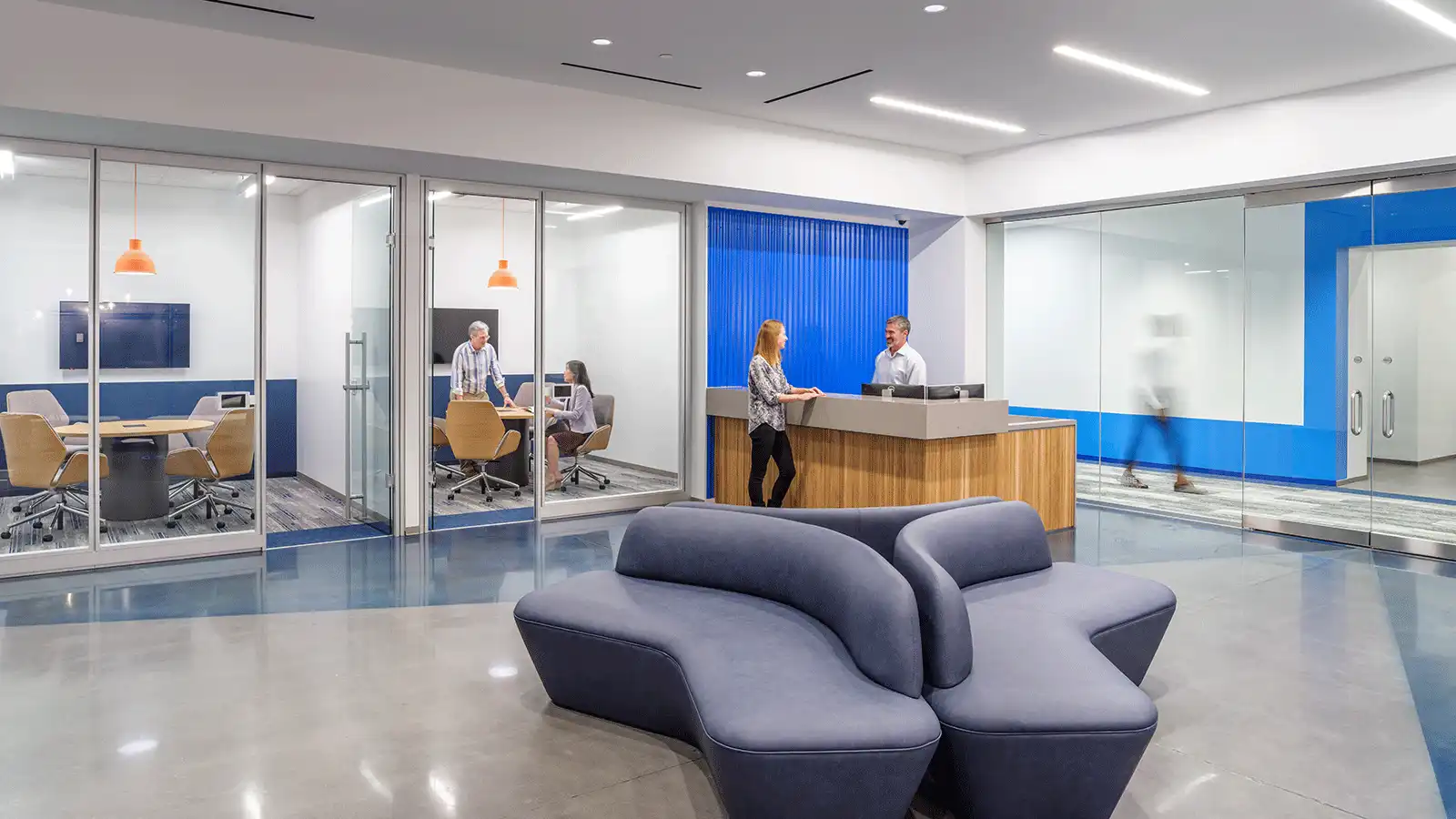 Home › Our Work › Projects › United Rentals
United Rentals
The World's Largest Fleet of Rental Equipment
A core belief for United Rentals is that great employees build a great organization. To continue supporting employees in growth and excellence, we partnered with United Rentals to design a workplace aligning with their vision.
United Rentals recognized the need to consolidate their Tampa, Florida and Charlotte, North Carolina office into a flexible and transparent hub for training, finance, HR, warehousing, and technology.
The new office space, located in Charlotte, North Carolina, supports over 600 people across 95,000 square feet.
United Rentals' previous workspace had single-use spaces and physical barriers that reinforced a silo mentality, creating inefficiencies and an undesired, formal approach. The new office experience visually and organizationally maximizes space while avoiding those challenges. We developed standards and guidelines for space types to ensure engagement, efficiency, flexibility, standardization, and transparency within the workplace.
Project Details
Square Footage: 95,000 SF
Location: Charlotte, NC
PDR Team
COLLABORATORS
CBRE
D3 Studio
Barrett, Woodyard & Associates, Inc.
Bennett & Pless
Unified Technology Systems
Atkins DTS
Avenue C - Canteen
Vannoy Construction
Putterman Scharck & Associates
Pioneer Contract Services
The multi-purpose spaces created a dynamic work environment to provide a variety of work settings empowering employees to choose where to work and cross-pollinate with other departments. To promote community engagement throughout departments on each floor, large collaboration zones and strategic collaborative touchdown zones allow for brief gatherings. Break rooms are located at the core of the building to provide another connection point and a place for unplanned interactions.
The space's overall design reflects United Rentals' brand identity immediately upon entry, making an impact for visitors, new hires, and even long-standing employees. PDR utilized various themes that coincided with the company's brand, including construction references as well as a mixture of raw, mixed, and natural materials in vibrant brand colors.
GET IN TOUCH WITH US
Have an inquiry or some feedback for us? Fill out the form below to contact our team.