Blackhawk Network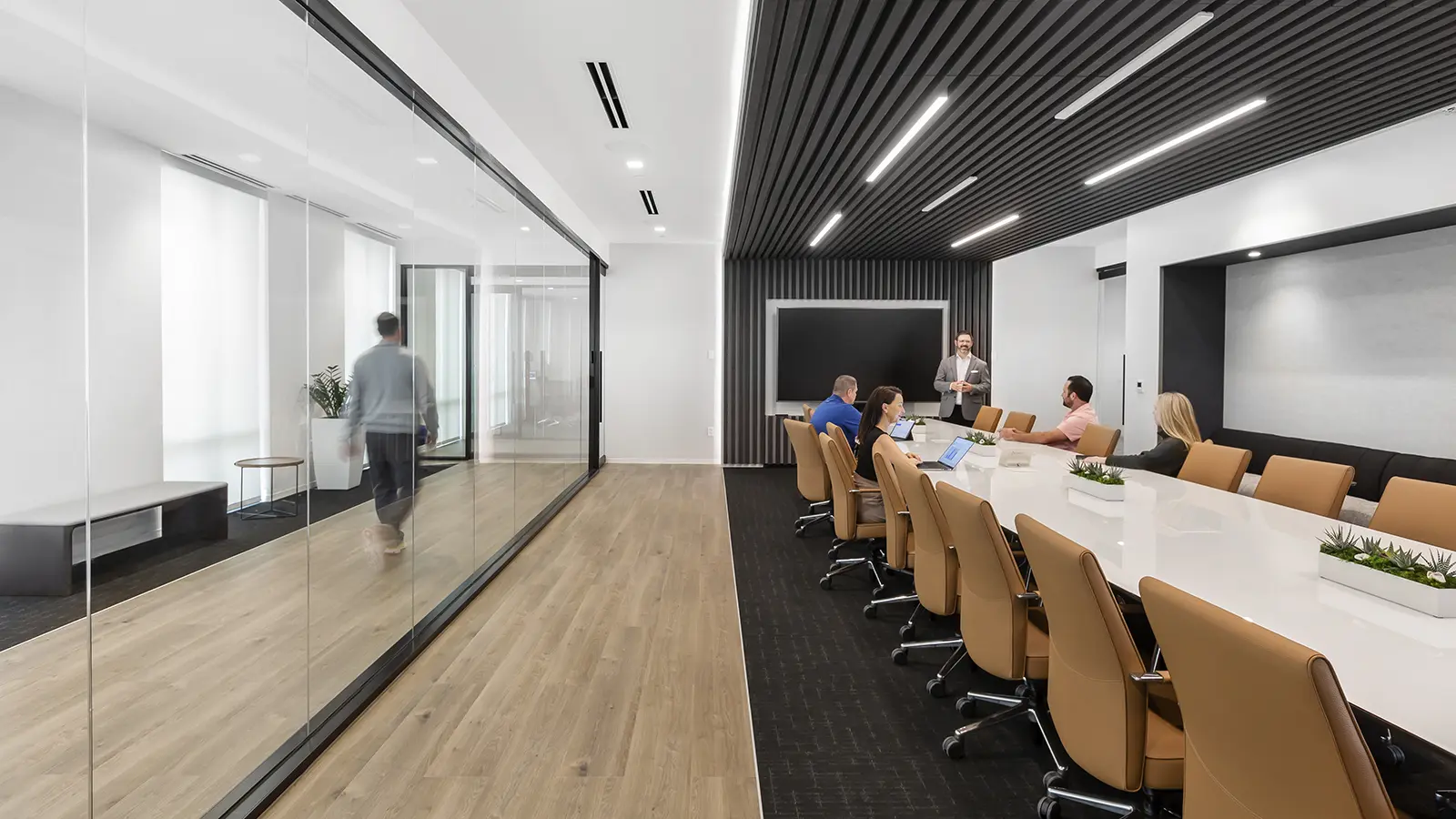 Home › Our Work › Projects › Blackhawk Network
blackhawk Network
Visitors Welcome
It was routine for Dallas-based Blackhawk Network to host a steady stream of clients and prospects in its headquarters office. But it was becoming a challenge – not merely due to lack of space. They needed a space to support and inspire their employees, but also one that was also conducive to client-hosting. When Blackhawk called in our team to conduct space planning and design for their new 28,000-square-foot Coppell headquarters, it was clear that what Blackhawk's office needed was an infusion of hospitality.
By designing a visually pleasing, hospitable environment for Blackhawk, we provided a physical framework for the company to invite collaboration, maximize client entertainment, and inspire memorable moments. In doing so, our team solved an additional challenge Blackhawk had been experiencing— how to ensure remote workers wanted to return to the office by ensuring the headquarters' workspaces were energizing, engaging, and flexible.
The plan revolved around creating visual sightlines so that upon entering the lobby, visitors immediately experience a sense of discovery as they make their way through the space. Zones exist for both client-facing and employee task areas, yet there is a natural flow from one to the next, and an assortment of collaborative, conversational "nooks" follow that flow.
Project Details
Square Footage: 28,000 SF
COLLABORATORS
AOS Engineering
Bryteside
ALS Lighting
WPS
The lobby layout mimics the experience of a hotel lobby, with smaller conversational areas as well as workspace pods to evoke a sense of coziness. All elements are strategically and seamlessly connected with the larger environment. The overall effect is one that is cohesive yet invigorating.
To accommodate Blackhawk's hybrid work model, we created open workstations that can be booked in advance and where employees can utilize the diverse spaces to meet and collaborate. Intentional sightlines were also leveraged to make areas feel "full" during the ebbs and flows of occupancy. The concept is particularly effective in adding warmth to wide-open office spaces that, in a hybrid working world, aren't always filled. We also considered point of view, such that from wherever an employee sits, they always see a bit of the outside world and access natural light.
Taking its cue from the hospitality industry, the boardroom was fitted with large sliding doors that can be opened as needed. The room is flexibly designed as both a pre-function area for hosting events and a welcoming place for serving lunch to clients, with subtle and easy access for food delivery.
Blackhawk's new space is the ideal place for Blackhawk's business to thrive and is a multi-functional headquarters that guarantees an engaging experience for employees, visitors, and vendors alike.
GET IN TOUCH WITH US
Have an inquiry or some feedback for us? Fill out the form below to contact our team.