910 Louisiana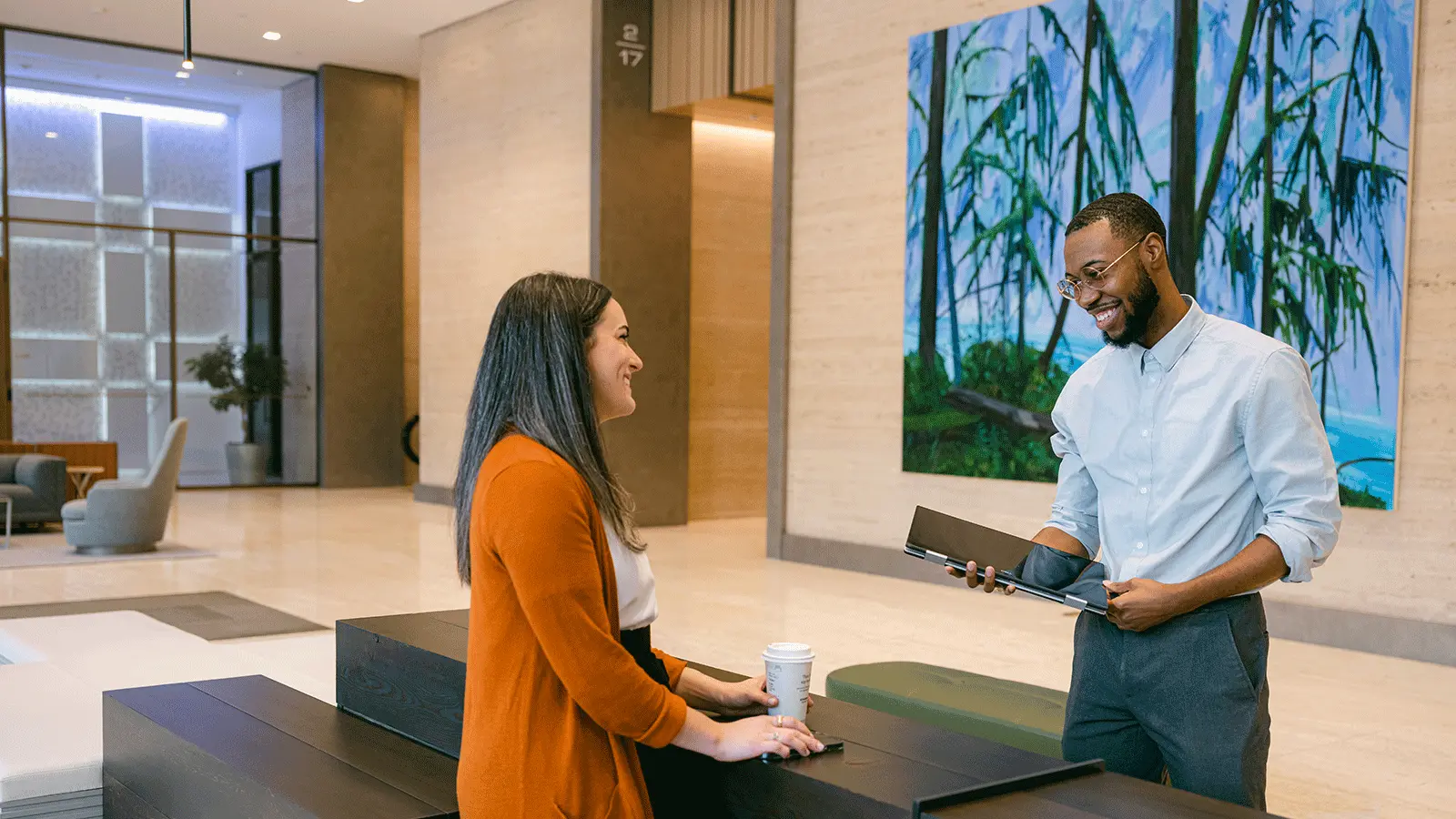 Home › Our Work Main › Projects › 910 Louisiana
910 Louisiana
Carefully Refreshing a Houston Classic
The 910 Louisiana had not changed much since the 70s, and the landlord saw the lobby and amenity space in the Downtown Houston Tunnels as a major investment opportunity to enhance the experience of the stagnant office building.
The plethora of seating arrangements in the open lobby serves as a welcome area and secondary meeting space for tenants and surrounding neighbors.
The amenity space in the tunnels offers more secluded meeting space and a tranquil dining spot. Tunnel walkers passing by the amenity space admire the blue monochromatic art sculptures on the walls. The iconic sculptural pieces also make it a great place to meet up for lunch in the tunnels with coworkers.
Previously, each side of the building had two identical, vastly empty lobbies and two security desks, which created a sense of confusion when navigating the building.
We reduced the number of security desks to one and relocated the security desk away from the center of the building to free up a significant amount of real estate. Then, we were able to develop an identity for each side of the lobby with unique and recognizable design elements.
Project Details
Location: Houston, TX
PDR Team
COLLABORATORS
I.A. Naman + Associates
Arktura
Mak Studio
CW Lighting
D.E. Harvey Builders
Office Pavillion
One side of the lobby features a "Log Jam" sculptural bench that is made of square-cut cedar logs, inlaid accents, and leather cushions. The other side displays a suspended ceiling sculpture that canopies over a large seating area.
PDR's concept for the project stems from river currents- a rushing river serves as an artery for travel and keeps a river alive, as a stagnant river will not teem with life; however, a rushing river does not offer a place for gathering, rest, or nourishment. For a river to breed life, it must have a balanced variety of currents. To create this experience in the lobby space, PDR created places of rest and convergence; the Log Jam originates from the project concept and is meant to emulate a place of respite in a river, or a place where life flourishes.
Lush paintings and metal sculptures were commissioned to create additional focal points in the main lobby, supporting the river design concept and creating a sense of energy and movement within the space. Lounge settings were planned to allow access to natural light and views of City Hall Park across Smith Street. The health and well-being aspects of this design are focused on creating spaces that foster community and a connection to nature.
The functional spaces with new modern finishes, magnetic and visually appealing amenities, give new life to the 910 Louisiana building.
GET IN TOUCH WITH US
Have an inquiry or some feedback for us? Fill out the form below to contact our team.