Working from Home AND the Office Not OR
WORKING FROM HOME LONGER THAN ANTICIPATED!
OK, OK, it's definitely real! Back in March, it seemed this was a temporary blip—a work-from-home for a week or two—an adventure working off that thin little laptop. Look at this: It's a beautiful spring day and I can take a call outside! And I don't have to drive downtown, or wear a collared shirt, or even shoes!
Fast forward six months (well, maybe it doesn't seem so fast to you!), and that same cool laptop has required the addition of a bunch of new equipment, cables, bandwidth, and some WFH protocols. Headphones on means I'm on a call, and the whole household is clear about what's going to show up in the Zoom background and what's not. I sure miss my co-workers, a better chair, a printer, and the great food at Treebeards. Oh, and it's too hot to take any call outside—that's crazy talk.
And now current prognostications predict there's no going back to the office before January (the rosiest forecast I can find), or maybe next summer, or maybe ever.
Remember that sort of hard line between work and home? It's more blurred than ever and while there is a measurable perception of individual productivity depending on whether you have a separate space at home for work or whether the best spot you have is the couch or kitchen table, even the most compromised WFH set up is measured positively compared to many office workplaces.
COMPANIES' AND ORGANIZATIONS' QUANDARY
So interestingly enough, WFH has been successful for many. Leesman reports, "WFH is good—even outstanding (but not for all!)." And now companies and organizations have a quandary: Do we improve the workplace to make it compelling enough for employees to come back or augment employees' home set-ups to make them more productive? And since those of us on the employee side of the equation now have this experience under our collective belts, the answer is likely to be an AND statement, not an OR.
WORKING FROM HOME AND THE OFFICE
We have re-discovered things we probably knew back in February: Home works great for privacy, focused tasks, and "me" work, while the office works great for collaboration, complex problem solving, and "we" work. The model going forward will be a little bit of both with a focus on the experience and how workspaces can best support those experiences. Organizations that put their people first will be successful in the long run—again pointing up the dual nature of improving both the office experience and the home experience.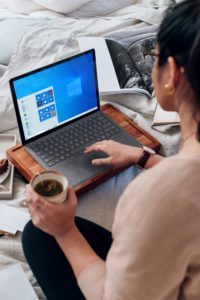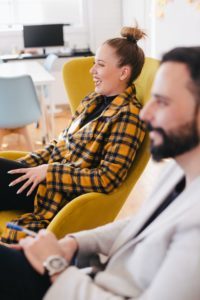 The great news is that we're adjusting! We can visualize a model that supports all the modes of work, technology that continues to improve (although I'm not sold on the idea that my Zoom beach background is really background-shaming you), and ubiquitous flexibility in workspaces, HR policies, and eventually, real estate usage.
It's an exciting time to be in our business—radical resets bring the most opportunity—and I'm looking forward to what my smart PDR colleagues bring to the table with reimagining our workplaces. Different? You bet! Bring it on!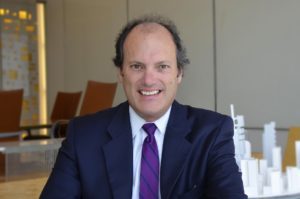 Larry Lander
Larry's thirty-plus year career in workplace design is the foundation for his deep knowledge of effective work environments. As a Principal with PDR, he has led teams in the design of new large-scale buildings, development of campuses, learning environments, and corporate relocations.