PDR Designs the New HP Inc. Campus
HP's newsletter, The Garage, shares all the great details about the new campus' vibrant workplace to support their relentless pursuit of purposeful innovation.
"HP tapped Houston architecture, design and consulting firm PDR to lead the new campus development project because of the firm's focus on incorporating workplace strategy and wellbeing features into the environmental building design. PDR also stood out for its process of gathering employee input to inform design." – HP Representative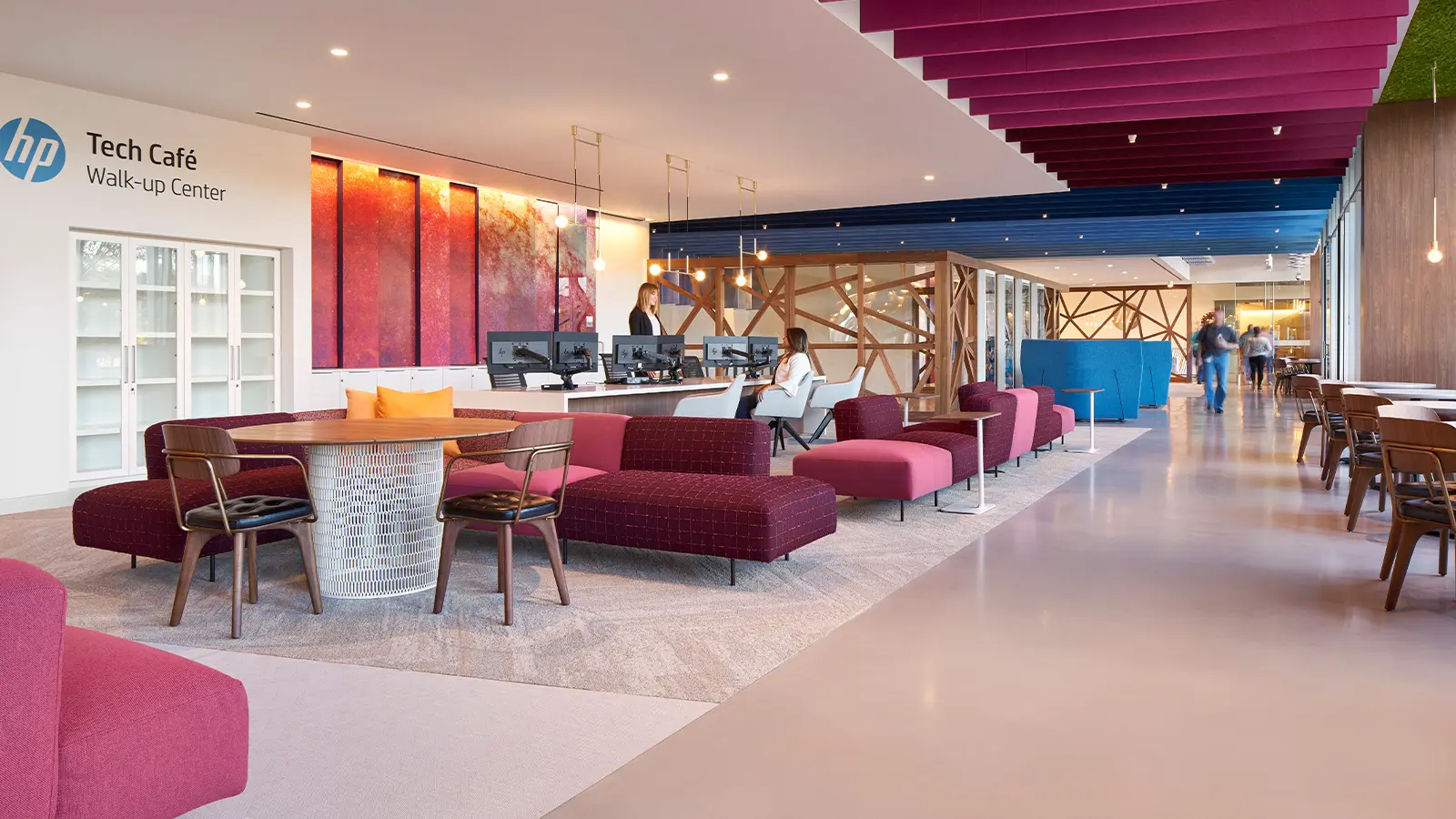 A solid Workplace Strategy was a priority in promoting a happy community, collaboration, and innovation. The introduction of nature into the work environment is helping to increase productivity. Throughout the office, external views of nature can be seen, and internally there are consistent hints of nature. For example, the screen walls on the first floor were inspired by a dragonfly wing, while the building's shades of yellow, blue and magenta are reminiscent of a sunrise and sunset.
Different types of work stations were created to accommodate multiple styles of work. "Wires are hidden within the desks at employee workstations, giving the space a sleek, uncluttered look. Each type of space has a different type of technology that allows that space to be used to its best potential, people can do their best work no matter where they are on campus," says PDR Lead Designer, Laura Beth Mertz.
Wellness was also an important design element for HP. Mertz noted, "Internal systems at the new campus were designed for employees' comfort and well-being. Heating, AC and lighting can be customized throughout, and carbon dioxide monitors in large conference rooms trigger a release of fresh air when the room gets stuffy — a welcome development for anyone who's ever dragged at the end of a long meeting. All of these systems are affecting your overall wellness."
To read HP's article in its entirety, click here.