PDR Collaborates with Morrison Dilworth + Walls on Allen Center's Vast Renovation
As featured in the Houston Chronicle and Realty News Report, PDR is proud to shape and rethink Allen Center's amenity spaces in downtown Houston. People are a company's most valuable asset and to attract top talent, building owners are investing in compelling and safe amenity spaces for tenants to workout, recharge, and gather.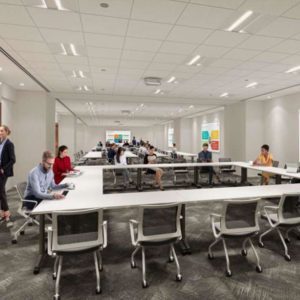 Downtown Houston's Allen Center comprises 3.2 million square feet of office space in three buildings. The multi-million-dollar renovation includes a high-end conference room located at the street level in One Allen Center. Three Allen Center will contain a wellness facility outfitted with Peloton bikes, rowing machines, stretch mats, towel service and executive locker rooms and showers, a bike room with storage racks and access to repair tools, and mother space with 10 private lactation rooms.
Allen Center Renovation Team
Project Architects: PDR and Morrison Dilworth + Walls General
Contractor: Tellepsen
Click here to read more in the Houston Chronicle
Click here to read more in Realty News Report.