Home › Our Voice › Articles › Mental Health: The Architecture
Mental Health: The Architecture
Mental Health, a subject that was previously whispered about in the workplace is now being brought into the forefront with the collapse of its surrounding stigma. Look around you; your colleagues, your boss, your clients, one in five Americans experience any variant of a mental health disorder, but less than half of these people seek treatment. Our job is to design for all of them.
"It follows that the balance we approve of in architecture, and which we anoint with the word 'beautiful', alludes to a state that, on a psychological level, we can describe as mental health or happiness. Like buildings, we, too, contain opposites which can be more or less successfully handled." – Alain de Botton, The Architecture of Happiness
Just as we consider physical health when designing the built environment, studies now show the importance of a more holistic approach, one inclusive of the user's mental well-being. The challenge for architects and designers alike is to be mindful of the psychological implications of each design choice and to create a working environment using architectural spaces as a form of preventive care. The goal is not to create perfection, not to heal mental illness, but to successfully design workplace solutions that encourage positive mental health.
Once we recognize that the end-user is a person with emotions and feelings, designing an appropriate space can be overwhelming. As experts in our field, there is an inert responsibility to advocate for the employee, beginning with workplace strategy. Establishing a program inclusive of both qualitative and quantitative design metrics is essential to success. Designing for well-being or happiness, although subjective, has clear methodologies that are defined.
Thoughtfully choose the color of the environment to evoke feelings and define spaces. Extend this design component beyond paint on walls, and include furniture, materials, environmental graphics, lighting, and even art pieces.
Adjust ceiling heights for each space type: low ceiling heights for more focused tasks and higher ceiling heights for abstract thoughts and social gatherings.
Ensure access to adjustable direct sunlight and adequate daylight distribution across workspaces. Natural light has a multitude of positive health benefits, and allowing the user personal control gives them the ability to adapt throughout the day.
Engineer acoustic conditions appropriate to the function of each space. Areas of contemplation should be tranquil and quiet, while social hubs should encourage conversation and human relationships.
Give the occupant adaptable elements they can control (e.g., a sit-stand desk). These elements celebrate individuality and allow the user's environment to change as their preferences change.
Incorporate natural, green, biophilic design elements in both public and private spaces to aid in maximizing air quality and improve the occupant's health.
Tactfully space plan the distance and orientation of seating to encourage both privacy and collaboration.
Several studies support that physical activity and mental health are linked, by distributing functions across floor levels to encourage stair use, we can gently nudge employees towards greater overall health.
Create attractive and experiential circulation routes, or intriguing walking paths. Again, expanding upon this notion that physical health directly influences our mental well-being.
Introduce the idea that forms of space, curved or rectilinear, are perceived differently and influence the user's sense of beauty and comfort.
Although descriptive words such as beautiful are unique to each person, there are feelings associated with them. It is capturing those feelings and translating them into a design that creates an environment that works for employees. New programs such as the WELL Building Standard outline principles impacting human health and wellness through architecture. If we design with a purpose, a clear intention to promote better well-being, we can attempt to design for happiness.
Stay tuned at the end of this October to learn about Mental Health: The Employer. When you build it, they will come….but then what? We will discuss how companies, once in a built environment, can harness human resources to educate and spread awareness about mental health.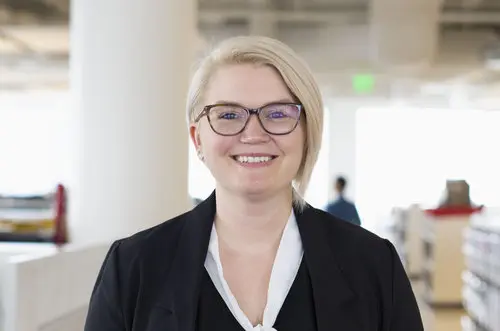 Charly Irvin
As a multidisciplinary designer at PDR, Charly brings over six years of professional experience in the design industry. She has worked on projects encompassing organizational migration planning, brand experience, and architecture. Currently pursuing her WELL AP certification, Charly believes strongly in encouraging positivity and well-being through design. She thrives on concept fruition and believes that design, when done right, can breathe life into all things.