Home › Our Voice › Articles › How to Maintain Connectivity While Working Remotely
How to Maintain Connectivity While Working Remotely
As we near the 2020 finish line, many of us find ourselves working from home "until further notice". Tech giants like Twitter and Facebook have announced permanent work from home solutions and many organizations across industries are following suit.
Organizations that do plan to eventually return to the office are announcing return dates in mid-late 2021. It is estimated that up to 30% of the workforce will continue to work from home by the end of 2021. For those eager to return to the office, this news can be daunting. However, the vast majority prefer a hybrid solution of working from home and the office. Recent survey data shows 82% of the U.S. workforce would like to continue to work from home several days per week after the pandemic is over.
Working from home during a crisis, such as a pandemic, does not equate to working from home in a typical situation. Regardless, working from home has uncovered some perks – no commute, greater flexibility, better work-life balance, and best of all, sweatpants, to name a few. The long list of home-working perks can be met with an equally long list of challenges. One of the greatest challenges being connectivity to individuals, teams, and the organization as a whole. It can be easy to feel disconnected and isolated when working from home but it doesn't have to be that way. Here are a few tips to remain connected while staying apart.
CONNECTING INDIVIDUALLY
Intentional communication – Gone are the days of casual collisions – at least for the time being. Virtual communication takes a bit more effort but can be just as effective as communicating in-person by being more intentional. Set your availability status on collaboration platforms to let others know when you're free to chat or when you're heads-down in focus work. Establish communication preferences with others (e.g. email, call/text, Microsoft Teams, ZOOM, Skype, etc.) to let them know how you prefer to be contacted. Update your calendar to let team members know when you will be unavailable or away from your computer.
Recognize others – This is especially important for team members. Not being seen by managers in the office can leave some employees feeling like their hard work goes unnoticed. Frequent check-ins, reviews, and recognition of effort can let your team members know they are valued.
Video on during meetings – As simple as it sounds, turning your video on can have a big impact during meetings. Body language, a major contributor to human communication, can enhance remote video meetings more so than voice-only meetings.
GROUP CONNECTION
Informal pre-meeting chat – Before jumping into the meeting agenda, spend a few moments of every meeting checking in with others on the call to see how they're doing. Showing interest in others simply by asking how their weekend went establishes rapport and maintains positive relationships.
Weekly team meetings – Set up weekly Monday morning meetings to share anticipated workloads for the week ahead and stay in the loop of what team members are working on.
Special Interest Message Boards – Message boards with assigned groups are a fun way to bring people together to chat about non-work-related interests such as television shows, hobbies, sports, or pets.
Virtual breaks – Working from home doesn't mean you can no longer take your usual coffee break like you once did in the office. In fact, virtual coffee breaks, lunches, happy hours are all great ways to catch up with team members while working from home.
COMPANY-WIDE CONNECTION
Company-wide updates – Send out company-wide emails to all employees on a weekly or monthly basis to keep everyone up to date on and on the same page while being geographically dispersed.
Professional development opportunities – While conferences and seminars are being put on-hold, webinars and virtual lunch-and-learns are emerging as educational alternatives to aid in continuous learning and professional development.
Company-wide challenges – A fun way to keep the organization connected is by introducing a little friendly competition through company-wide challenges such as health and wellness challenges or virtual trivia.
Continue company events – Have an annual company event that employees look forward to every year? With a little bit of thought and creativity, company events can still take place in a virtual setting to boost morale and maintain organizational culture. If your company had an annual ugly Christmas sweater contest, host a virtual one and allow employees to vote for their pick via an online polling app.
Maintaining a connection while working from home certainly hasn't been easy but we've proven to ourselves that it is possible. Whether we are met in 2021 with a return to the office, a hybrid option, or continue working from home indefinitely, one thing is clear – with a little bit of thought and intention we can successfully remain connected while physically being apart.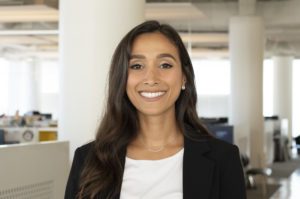 Samar Taha

Samar is a Change Management and Communications Analyst at PDR. She has several years of experience in a consulting role working on projects related to change in the workplace with clients from various industries ranging from technology to healthcare to oil and gas.