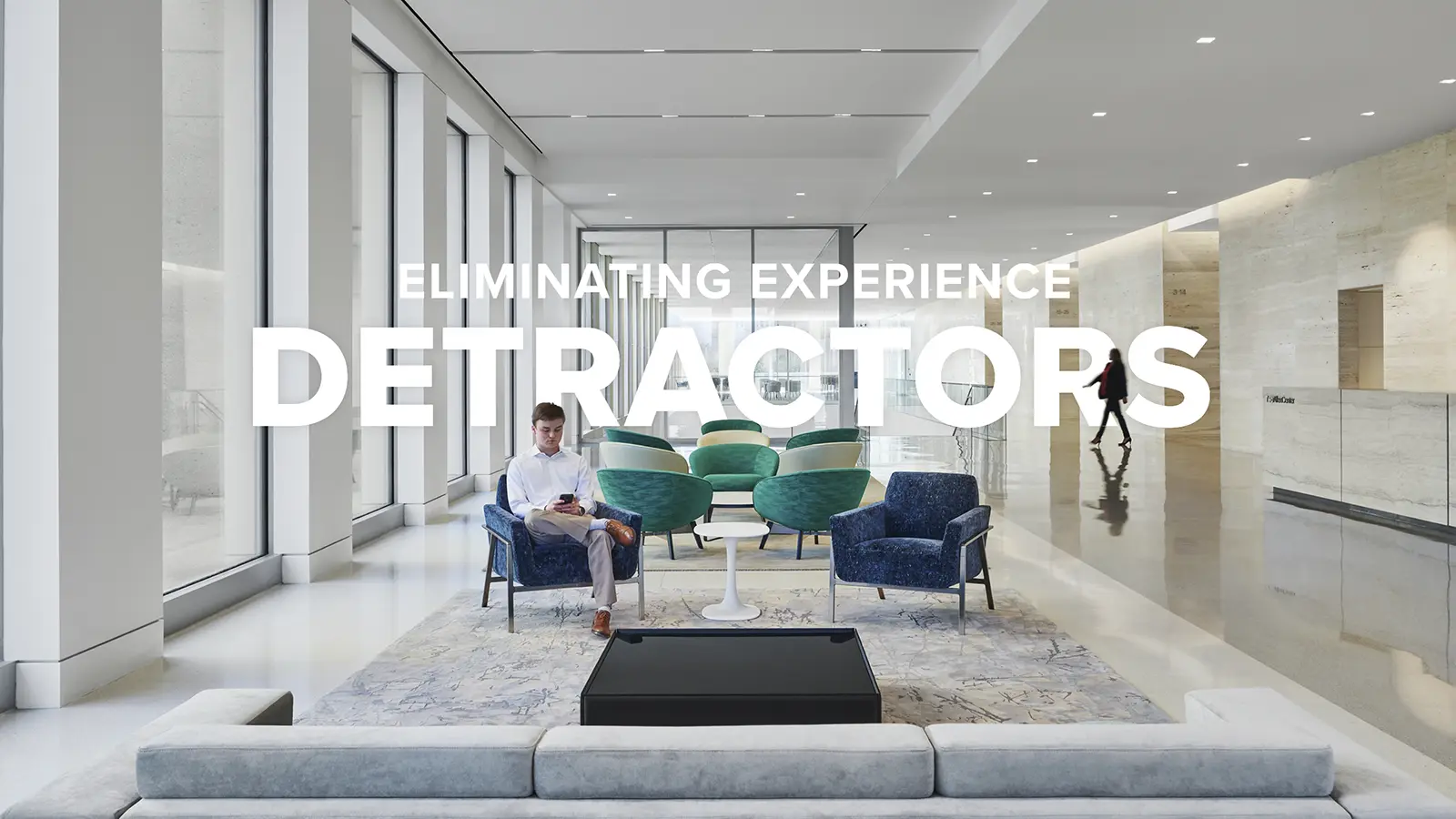 So far this year, we outlined that the key to building customer, employee, or patient loyalty is a winning Experience Strategy. We discussed the three universal elements that draw people to engage with an environment and how to activate them for different users of a space. Furthermore, when we give purpose to our spaces, we build environments that turn our users into our business advocates. Undoubtedly, people want to be where they feel their best, but it's the subtle details that keep them engaged – or don't.
Now more than ever, people are prioritizing their comfort and convenience and are more critical when evaluating where they spend their time. People who are less drawn to or engaged with your space than expected may (knowingly or unknowingly) be affected by your Experience Detractors.

FINDING YOUR DETRACTORS
Have you ever entered a space that seemed off, but you couldn't immediately identify why? Are there areas in your own space you intuitively avoid? It's likely because of Experience Detractors. They can manifest anywhere: within engineering (lack of proper lighting), interior orientation (lack of directional signage), or furniture and décor (uncomfortable seating). Your space's Experience Strategy must identify, reduce, or eliminate the impact of detractors. Without a strategy, even loyal space users will spend their time elsewhere.
In our work with clients, we look at the nuances and pain points of those who use spaces most often. Through our 45+ years of work, we've found the most common Detractors impact sight, sound, and feel.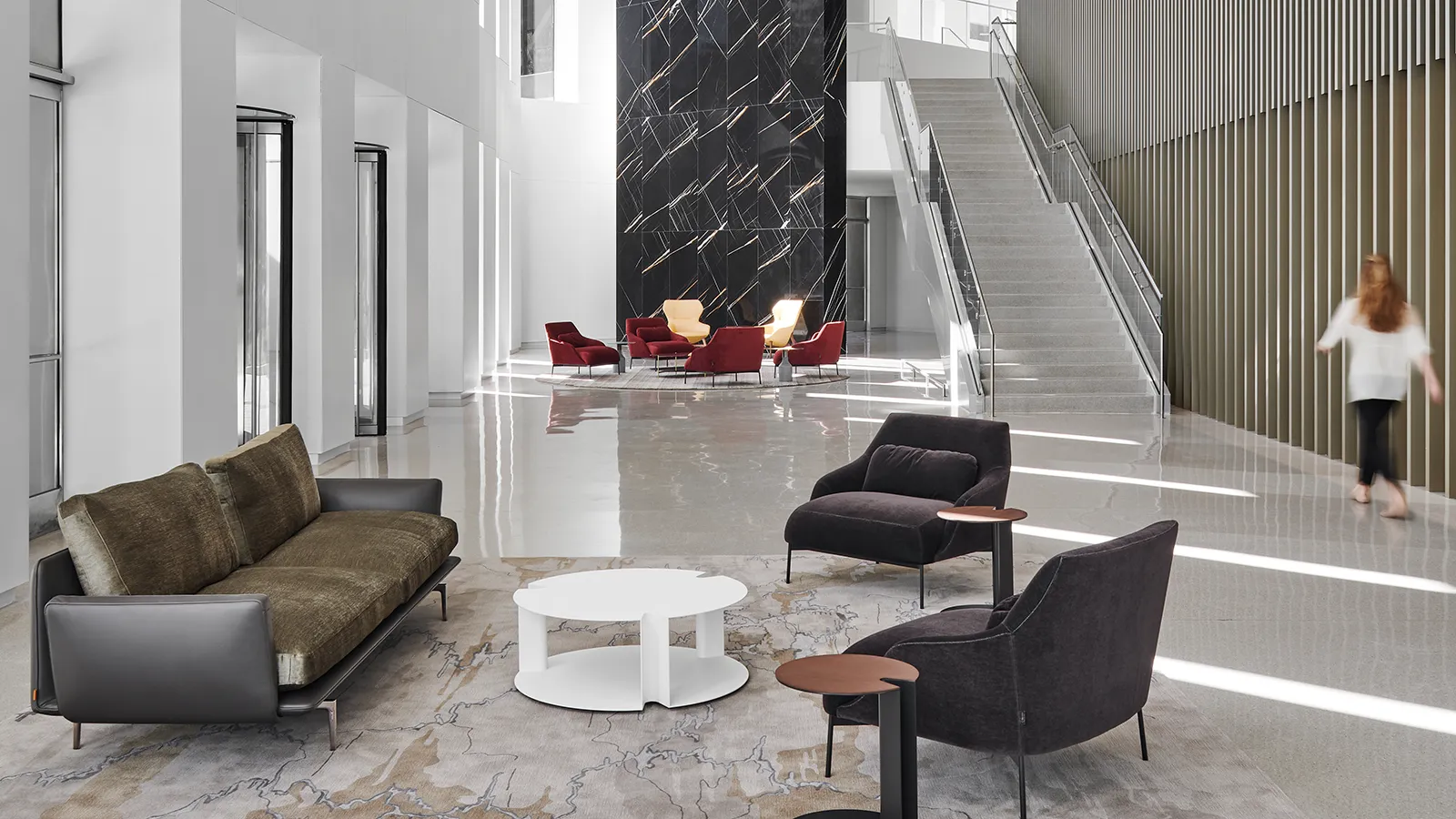 SIGHT
When it comes to experience, first impressions really are everything. What a user sees when they enter your space or how they find what they are looking for can either intrigue or deter. Take commercial real estate, for example. There is something disruptive to visitors or employees about maze-like turns, dead space, and inconveniently located amenities. It can be even more confusing and unsettling when no clear directional signage exists.
We saw this while working on Allen Center, a multi-building office complex in Houston, to help them increase tenant retention and remain competitive within their market. We identified their buildings' traffic flow through their lobby spaces as a potential detractor. We reconfigured the path connecting multiple buildings and bridges that brought energy and flow and incorporated lounge seating near natural daylight and views, enhancing relaxation and promoting health. Today, these buildings promote a productive, social atmosphere where professionals can collaborate and thrive.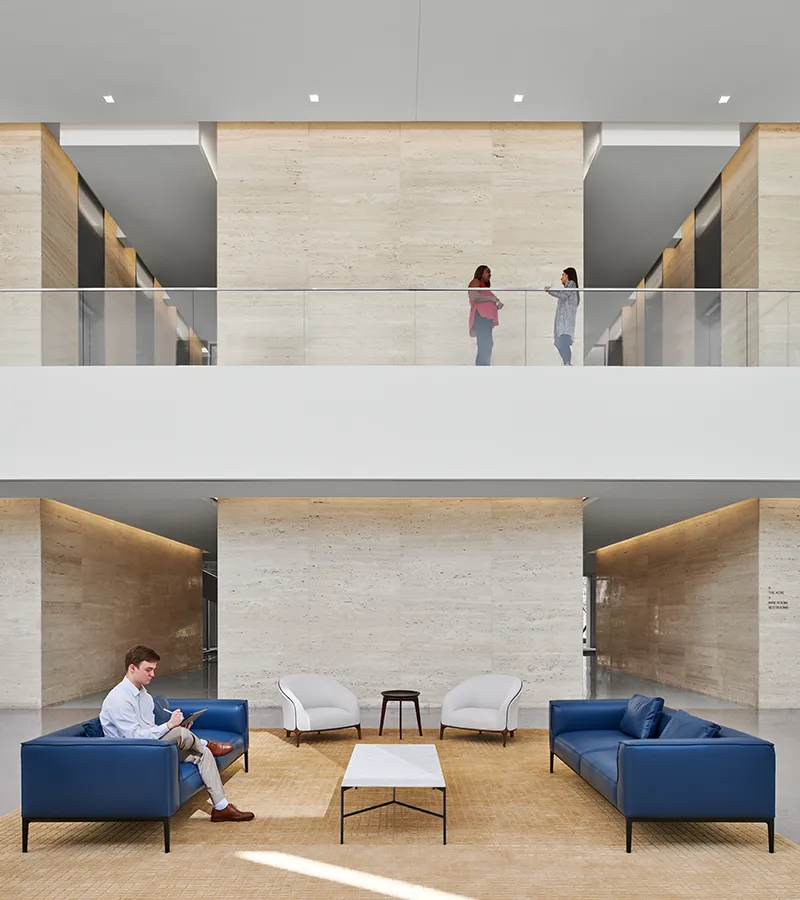 IDENTIFYING SIGHT DETRACTORS:
What's the first thing you see when you enter your space?
How long does it take to get from one area to another?
Is it immediately clear which direction you should be traveling in to reach your destination?
How many turns does it take to navigate a hallway?
Do corridors seem tight and restrictive?
Is there enough access to windows and direct sunlight?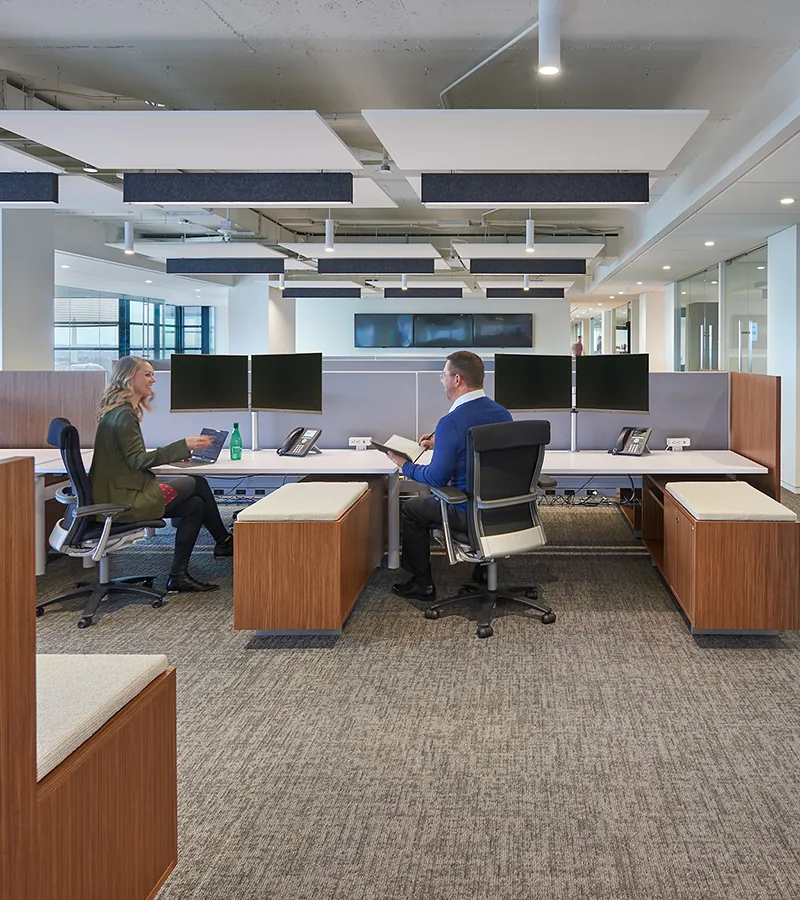 IDENTIFYING SOUND DETRACTORS:
Can you hear the voices in the office next to you?
Can you hear doors slamming repeatedly?
Can you hear sudden creaks in the building?
How intrusive are elevator dings? 
Do you notice every time the air conditioner turns on or off?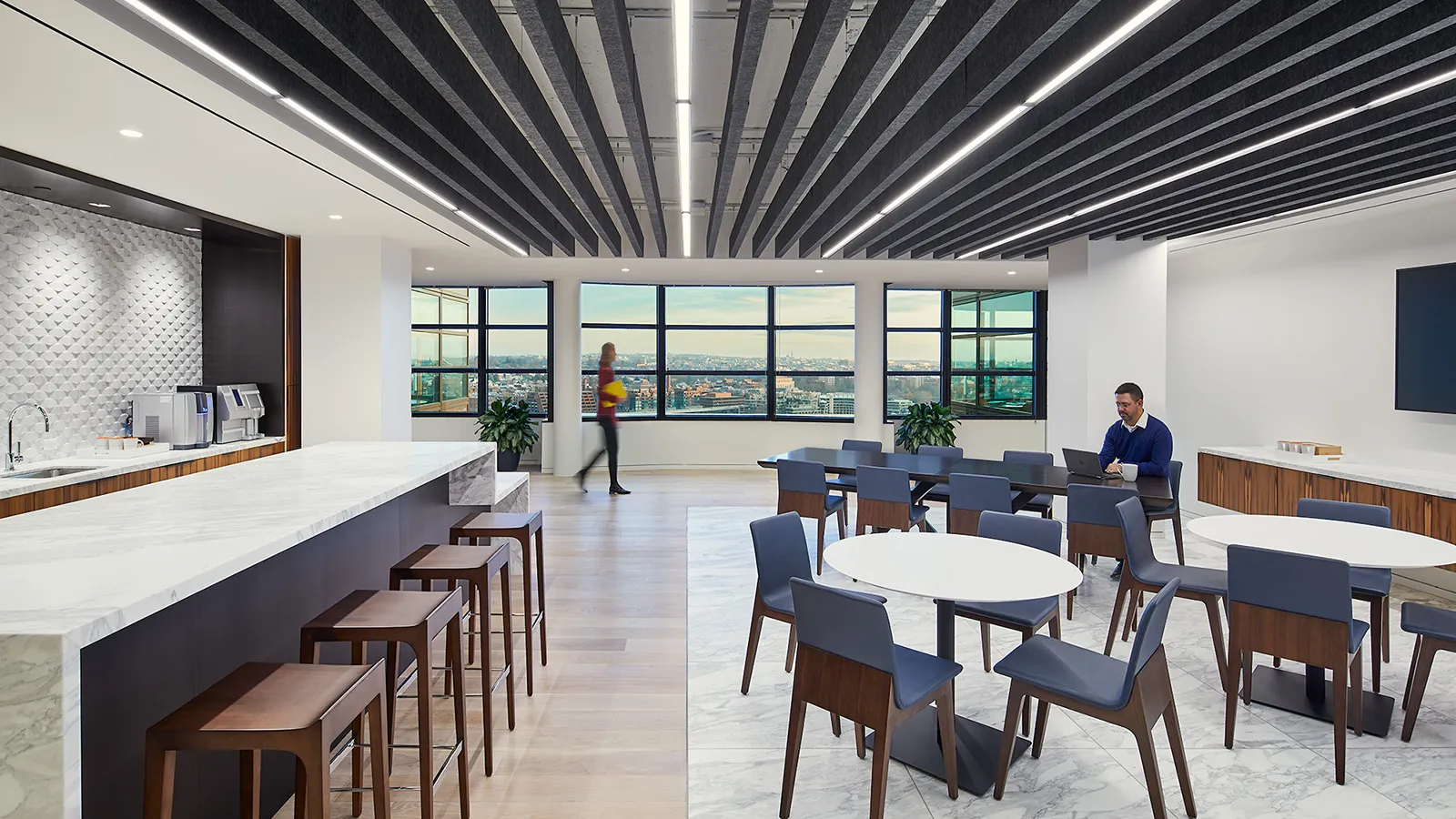 SOUND
Sound can be one of the biggest Detractors, whether it's noisy elevator units, constant foot traffic, or occupant chatter. Without dedicated areas for quiet, loud, and mixed activity levels, users may find it hard to connect with their work or each other. The right Experience Strategy will incorporate the proper sound-mapping and acoustic-dampening solutions to clarify when and where users should focus and concentrate or relax and network.
When one of our major energy clients in VA set out to design a space that echoed their intricate work, sound mitigation was top of mind. Our team helped them develop structure within their space, intentionally separating training rooms and focus work from collaborative meeting rooms and social gathering areas. Today, they have an attractive facility that successfully supports high productivity and their goal of attracting and retaining top talent.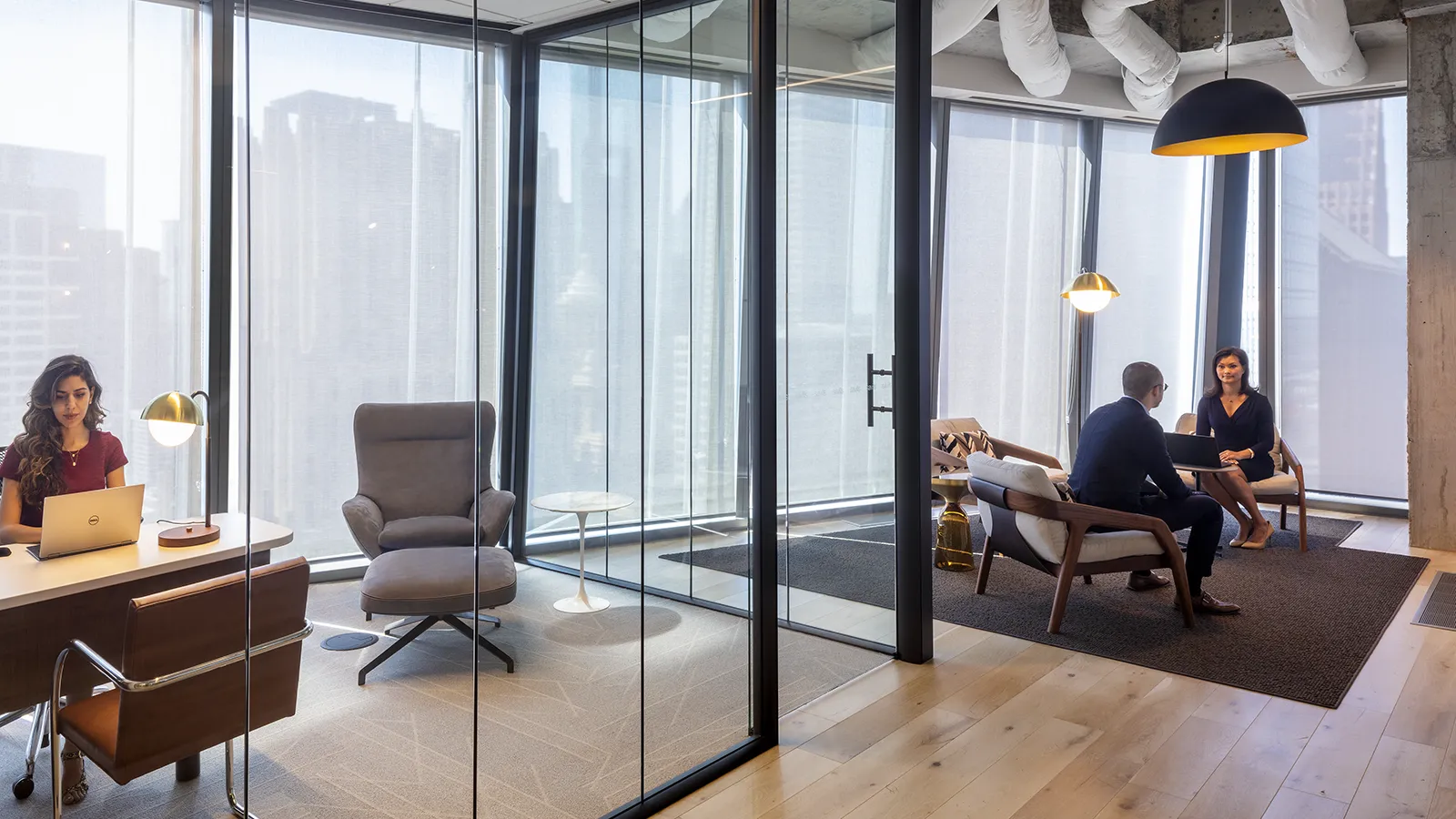 FEEL
Our time working from home has forever changed what inspires people to enter an office. The traditional stacked, gray cubicles are no longer an appealing or comfortable place to spend an 8+ hour shift. They also do little to promote vital team collaboration. It's why corporate design continues to forgo the buttoned-up office environment for spaces that feel more like a home away from home. Hospitality-inspired features like open seating, cozy furniture, social areas, and lifestyle amenities invite people to engage with the space even outside of work hours.
We worked with Savills, one of the world's top commercial real estate providers, to achieve an office environment centered around "work-lounge balance." Their new energized space helps employees collaborate, socialize, and build stronger relationships with clients. The Savills office space could easily become employees' favorite coffee bar or cocktail lounge, deepening their corporate sense of community.
IDENTIFYING FEEL DETRACTORS:
Does the space feel inviting?
Is seating comfortable?
Do personal spaces feel alienating or open?
Does the space have room for people to gather?
Is the temperature in the building too cold or too warm?
FINDING DETRACTORS
As you can see, a proper Experience Strategy addresses the details that detract from your space. If you are not intentional about finding and eliminating elements that negatively impact your users' senses, you run the risk of losing those users to places that will.
Want to start addressing your Experience Detractors? We suggest assembling a group of regular occupants of your space.
ASK THEM ABOUT
Things, large or small, that hinder their daily workflow

Areas or things that make them feel discomfort or uneasiness

Areas of your space they tend to use the most and why

Areas of your space they avoid using and why

Things they find odd about your space, the smaller the better

Things that cause them tension or anxiety in the space

Other spaces they frequent that inspire them and why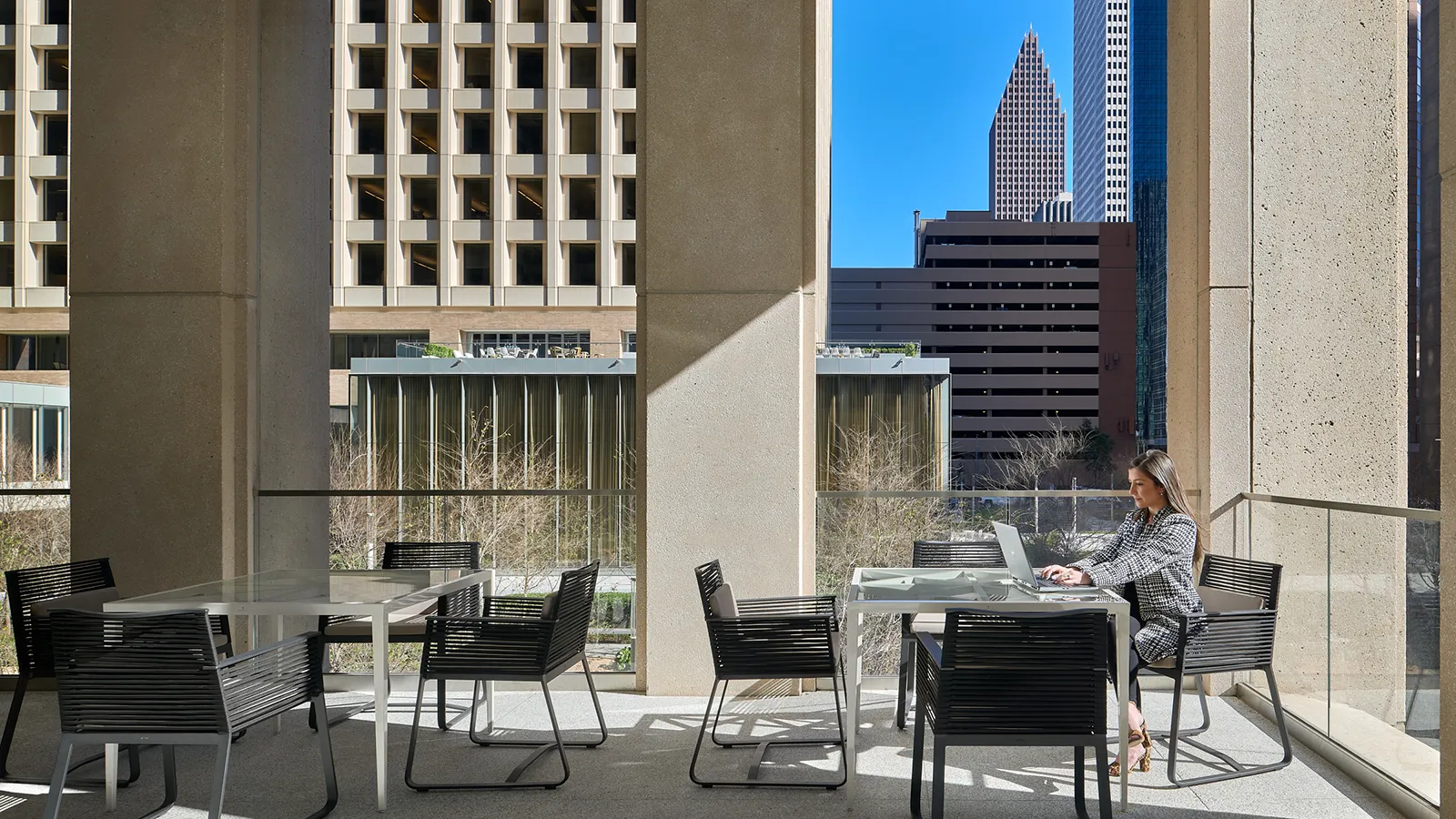 Need expert help in diagnosing the detractors in your space?
Doug Hellmann
Principal, Design + Architecture