Home › Our Voice › Articles › Creating Your Home Workspace
Creating Your Home Workspace
Suddenly working from home? PDR's experts share our clever tips for placemaking with constraints.
Intentional Communication
Where do I start? Keep an open line of communication with your teams and friends. Know the preferred communication styles of your teammates.
Focus, meeting, and family times in conflict? Leverage open calendar access for time management and communicating availability. Discuss your schedule and expectations with those you live with daily.
Haven't memorized your team's or client's voices and mastered predicting facial expressions? Default is video: Position your screen to eliminate glare and bright backlighting for video calls. Place yourself either facing the window or perpendicular to the window.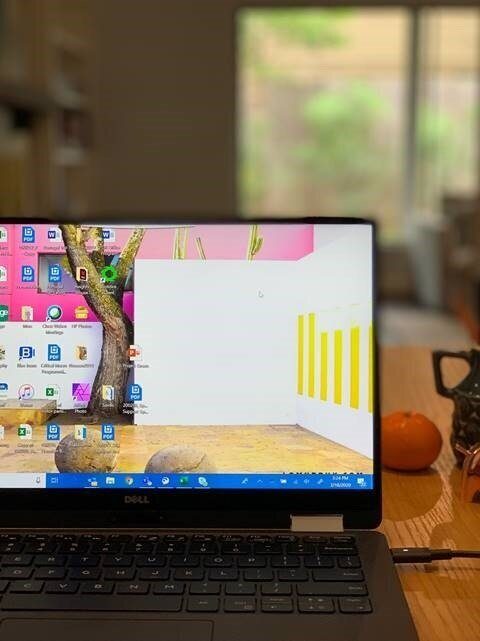 Best (facing window) The best view is the computer facing towards the window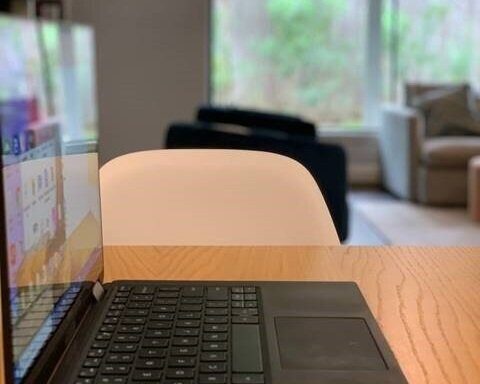 Computer is perpendicular to the window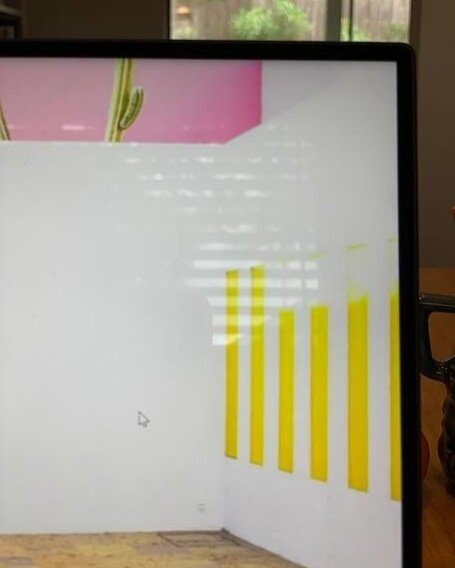 Window blind glare on the screen
Leverage Technology
Most have access to more than they realize, when in doubt search online first then ask for help from IT.
Don't have a monitor? Cast your laptop to your TV for increased screen real estate.
Tired of choosing between seeing faces in video or presentation content at full screen? Run one in the application and open a web session of the software to view the other at full screen.
WiFi drops? Plug in with ethernet for a more consistent connection.
Struggling with video on your low resolution, awkwardly placed laptop webcam? Leverage your smartphone and headset – likely improving resolution and audio. High quality webcams are worth it if you are on video frequently.

Take Care of Yourself
You can help others and be your best self when your mind and body are in a good place.
Used to the structure provided by going into the office? Create your own structure. Implement a schedule for work and life.
Create a work setup, and if you have the space, only sit there when you're working.
Working in a space that is multipurpose like your kitchen? Take a few minutes at night or in the morning to clean up the space so that it feels like your workspace and not like you are working in the storage closet or craft area. Clean your laptop and mouse in the morning and after lunch to give yourself a fresh and germ protected start to your work.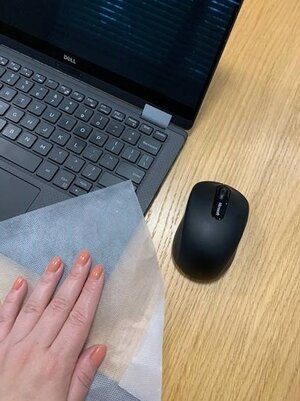 Fresh start
Set up your workspace with personalized versions of practical items. Display office supplies in fun containers – use milk pourers, sugar bowls, that fun ceramic you bought on vacation, vases, beer mugs, whatever suits you and brings you joy.
Don't forget to include a little greenery! Utilize a small vase to display clippings from your yard. No yard and no vases? Clip a few leaves from bushes around your apartment complex and display them in a nice drinking glass. A little green can go a long way for your wellbeing.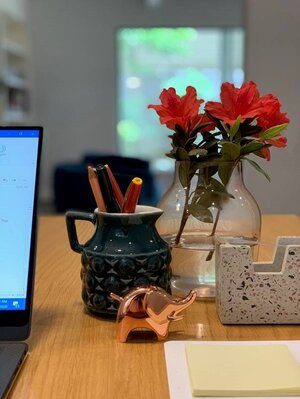 Practical joy
Sitting in a dining room chair, folding chair, or some other non-task chair? This is not going to be great for your back in a few days… Ergonomics are key to a good workday! Add a lumbar pillow or square pillow to your chair for proper back support and use a pillow or pouf to place under your feet to make sure your legs are at a 90-degree angle to the floor.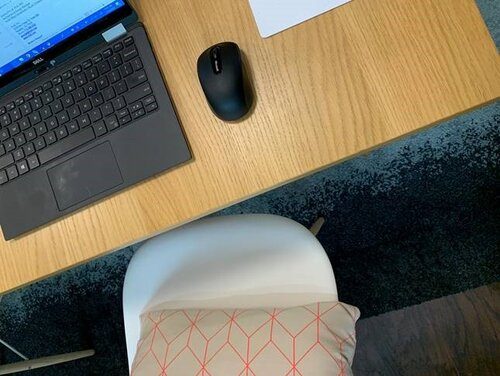 Back support
Legs 90 degrees to the floor
Set up a separate place for eating. Set out a nice place setting for somewhere other than where you are working for a change of scenery.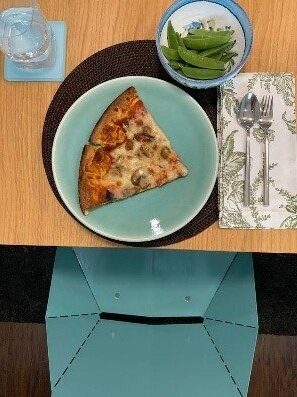 Support local restaurants and supplement with those greens in your fridge
Moving less at home? Schedule time to move your body throughout the day in addition to exercise. Pets can help with structure and movement – they thrive in routine and provide a companion during the day.
Senses off? Manage your senses & stimulation levels through your light and sound sources. Support your natural circadian rhythm: Control the color and brightness of your light bulbs, manage your laptop screen with this free resource and turn on True Tone & Night Shift in iPhone settings. Open a window for fresh air and a connection to the outdoors. Turn up the music when working on certain tasks – recommend speakers throughout your home.
Take Care of Your Community
During times like this when isolation is the socially responsible thing to do, we need to remember how lucky we are to be able to continue our work from home (Thanks VDI!). A lot of people in our immediate community are not as fortunate, especially those in the service and hospitality industry.
Make a list of restaurants that are near and dear to you that have options for take-out, or home delivery. Not only would you be helping local businesses, but it would break up the monotony of your home menus, and help you save supplies. Tip those who are delivering to you.
Your favorite spot doesn't have a delivery option? Purchase a gift card for a meal at a later date!
Take the proper precautions when handling ordered food. Take it out of to-go containers, throw those out, and wash your hands thoroughly. Luckily, the food itself "is probably not a major risk factor here."
By distributed coworkers in collaboration: Allyson Dalton, Laura Beth Mertz, Katie Cross, Giancarlo Salonga, Jerry Griffin, Garner Pagel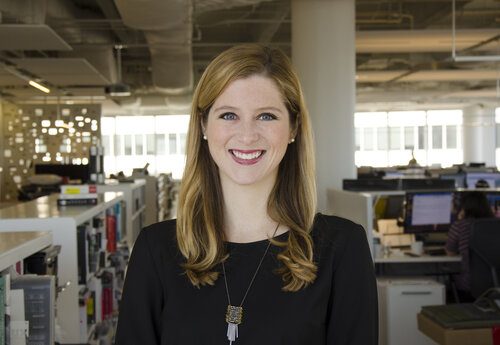 Allyson Dalton
As a Workplace Strategy Consultant, Allyson develops dynamic work environments based in a deep understanding of business drivers. These business drivers are assessed to build a metric-driven design solution to maximize individual, business and corporate performance. Allyson is passionate about the human-centered design process and creating solutions that inspire the user while driving bottom-line value.