Home › Our Voice › Articles › Brand Impact within Interior Architecture and Design
Brand Impact within Interior Architecture and Design
Brand Architecture
Many might be familiar with the practice of 'brand architecture.' As a refresher, 'brand architecture' is the practice of breaking down business offerings such as products, services, and ideas into sub-companies or entities under a parent company to help an audience access and relate to a brand.
Brand architecture can take on quite a few different forms, such as the services that FedEx offers, the digital products that Google provides, or the physical consumer goods sub-companies under P&G.
Brand Experience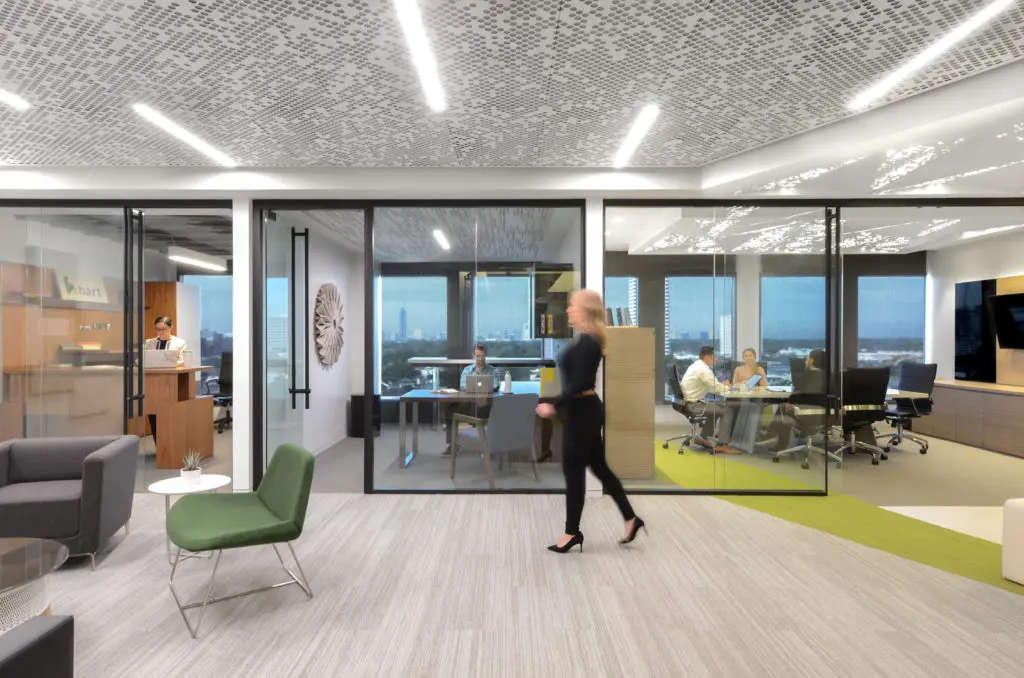 Hart Associates
This same concept can apply at different scales within interior architecture and design. The concept of brand can be effectively applied within the interior environment to activate the space and engage the audience. We call this brand experience.
Much like the concept of brand architecture, thoughtful interior architecture and design take into consideration a full array of client characteristics to develop a framework for the brand experience. These client characteristics include product and/or services offered, business culture, historical significance, and business vision.
With these characteristics considered, a design language is created that supports the parent brand – the client. Thoughtful place-making overlaid with brand experience, allows us to develop a system of tactile, volumetric, and visual relationships. Each system is like a sub-entity contributing to a unique moment, collectively reinforcing the design parameters and impact of the overall parent brand within their space.e
Brand Design Language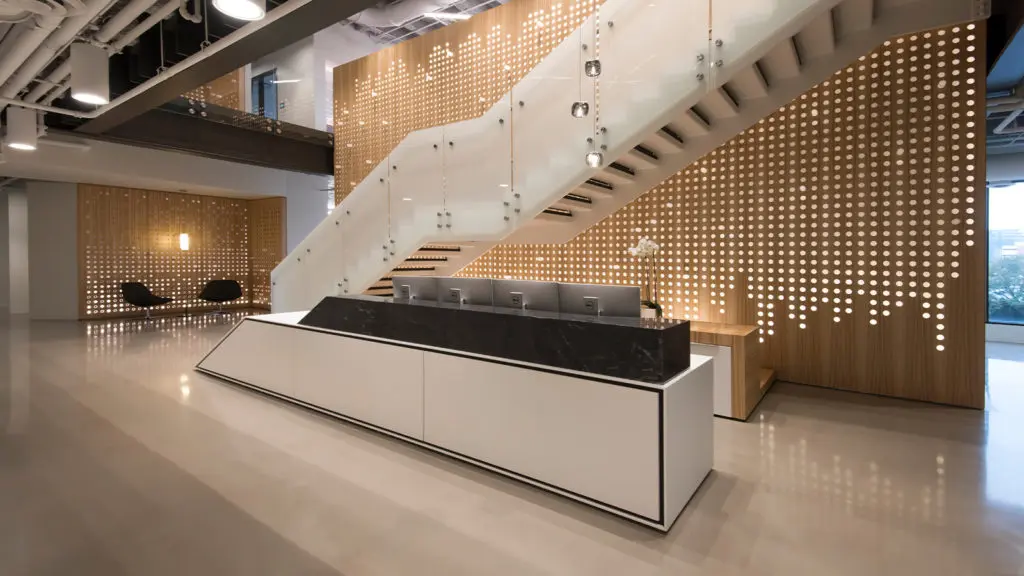 Quantlab
Critical to creating a highly impactful design is delivering an integrated design process that includes developing a brand design language. With this approach, brand experience is activated.
As designers, our first steps in building a design language requires research, investigation, and development of a design concept. The design concept is the overall vision that the design is intending to portray and execute. The design concept includes the functionality of the design, the design attitude, the feel of the environment, and the thoughtfulness in relating and representing the client. This is the part of the design process where the design begins to respond to the brand experience.
In order to achieve this heightened level of brand embodiment within a design concept, the client's business must be fully understood. Products, services offered, how a client envisions themselves now and in the future, and how the client wants to be understood and represented from their client's perspective are all aspects of a business influencing brand presence within the design concept.
Once the aforementioned aspects are fully understood, materials, spatial relationships, and programming decisions take on a meaning that transcends mere functionality.
These design elements now have a direct relationship with the client's business and vision. It is these relationships between materials and space, along with their intentional deployment that collectively creates a branded design language. This design language then embodies the business' needs and personality while, as a result, empowers them to make the transformations necessary to further align with their visions.
The significance of this type of design is that it becomes self-empowering, allowing businesses to transform themselves in how they work, how they build internal and external facing cultures, and how they are seen and understood by their clients.
Brand experience integrated with the interior architecture and design is a necessity when producing impactful place-making that will remain relevant during the current needs of a company as well as evolving with the company into the future.
Our Projects
At the Hart Associates' new showroom, the design and strategy for a brand experience were based on the client's business objectives first. The showroom is a marketing tool. The space advertises the client's products in a functional manner using Hart Associates' ceiling materials, partition products, and furniture. Design elements such as color within the space and the triangular acoustic panels relate to the logo to further enhance the brand experience.
Quantlab, a technology-driven trading company, is another unique project which focused on creating an environment cultivating an internal-facing culture. The design utilizes architecture, finishes, and graphics illustrating employees' common sci-fi interests along-side pulling inspiration from the nature of high-frequency trading, including chart analysis and pattern predictions. An internal stair with its wood screen represents the transmission of information at fast speeds and Star Trek quotes in braille.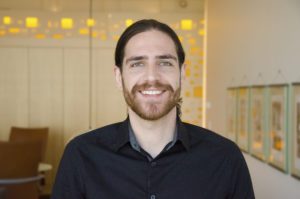 Chris Ardoin
Chris possesses an extensive skill set, including graphic design, digital modeling, physical making, advertising, and business management. His design process blends these skills and creates an artistic and creative approach to architecture, problem-solving, and critical thinking. As a solution-oriented designer, Chris targets design challenges and produces the most efficient and creative possibilities to best serve the project at hand.