Home › Our Voice › Articles › A Simple Interior Designers Guide for Healthy Material Selections
A Simple Interior Designer's Guide for Healthy Material Selections
Have you heard in the past year, California Water District suing highly recognizable companies over toxic "forever chemicals" aka PFAs (polyfluoroalkyl substances)? Products in the built environment such as carpets, textiles, paints, architectural membranes, and much more may contain PFAs. Exposure to PFAs can be harmful to our bodies linking to cancer, thyroid problems, and developmental issues in children.
As interior designers and architects, it is our ethical and moral responsibility to protect people's health, safety, and welfare. Let's discuss the way materials release chemicals, the potential effects on our health, and how to be alert when selecting materials.
CHEMICALS CAN BE RELEASED THROUGH ABRASION, CHEMICAL DEGRADATION, OXIDATION, OR VOLATILIZATION.
Abrasion is wearing away by rubbing or scuffing a material that results in the release of small particles.
Chemical Degradation is a chemical or physical breakdown of materials, which may release byproducts or form new compounds.
Oxidation is a chemical reaction such as rusting, which can release harmful substances into the environment.
Volatilization, aka off-gassing, is when chemicals change into a gas and are released into the air. These chemicals being released can pose negative effects on an individual's health.
THE POTENTIAL NEGATIVE EFFECTS ON HEALTH ARE ASTHMA, CANCER, INFERTILITY, AND OBESITY.
Asthma contains asthmagens, which can be found in adhesives, finishes, and wet-applied paints.
Cancer can be caused by carcinogens such as formaldehyde, PFCs (chemical to make materials stain and stick-resistant), and heavy metals.
Infertility dwells in BPA (found in plastics and resins) and phthalates (plasticizers- make plastics more flexible and harder to break).
Obesity may be triggered by PFCs, flame retardants, and phthalates. Recognizing these negative ingredients will help when selecting materials.
THERE ARE MANY MATERIALS IN THE BUILT ENVIRONMENT, HOWEVER, WE WILL DISCUSS WHAT TO BE AWARE OF WHEN SELECTING TEXTILES, PAINTS, AND CARPETS.
TEXTILES
When producing textiles, water, energy, and toxic chemicals are used in massive amounts to create some natural and synthetic textiles. Additionally, surface treatments often involve harmful chemicals when added.
Tips on textile selections:
Low Emissions – CDPH Standard Method (01350), Greenguard Gold, SCS Indoor Advantage Gold
Avoid PVC – PVC backings or coatings can be hazardous and have highly toxic chemicals such as dioxins (a highly toxic compound produced by paper bleaching) and phthalates.
Natural Fibers – cotton, hemp, or wool without toxic pesticides.
A great product example is Kvadrat – Tonica 2 Wool: Greenguard Gold, 100% wool and biodegradable, resists flames without chemical treatment.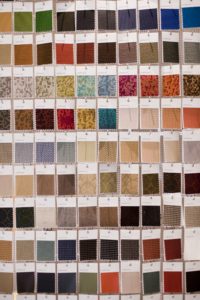 PAINT
The adverse on paints are high VOCs and binders, additives, and pigments could add toxins.
Tips on paint selections:
Low VOCs – content should be 10g/L or less
Mineral–based paints are alternatives to acrylic paints. Some mineral-based paints can absorb impurities in the air.
Meets Green Seal-11 (GS-11) – limits VOCs, carcinogens, heavy metals, and reproductive toxins.
A beneficial product example is Benjamin Moore – Natura Acrylic Latex, which is free of VOC content and zero VOC emissions. It is also certified in Cradle to Cradle Silver and Green.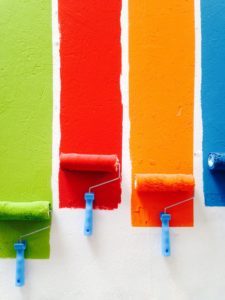 CARPETS
Carpets can have hazardous backing, pile, and surface treatments.
Tips on carpet selections:
Select carpet tacks vs adhesives for installation
Avoid polyurethane and vinyl backings
Avoid PFAs (perfluoroalkyl substances) with stain-resistant treatments.
An amazing product example is Shaw Contract – EcoWorx Carpet Tile: non- PVC backed carpet. It is Cradle to Cradle Silver certified and offers free recycling of the product.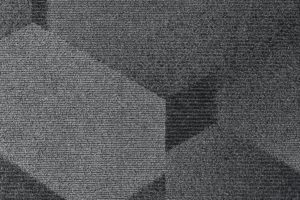 When it comes to harmful ingredients, it's better to be proactive than reactive. Textiles, paints, and carpets are only a few examples of the wide range of materials in the built environment. There are many resources listed below to help you specify healthy materials. Additionally, many times PDR requests assistance from their local material and furniture representatives who have resources and recommendations of their own. Consequently, any big impact starts with a small change! Happy hunting!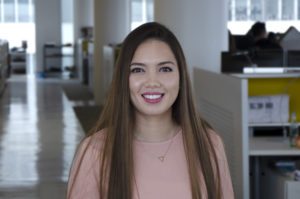 Sang Olicia

Through Sang's education and work experience, she has realized her role as a designer is to create functional and beautiful spaces based on the end user's experience. This is accomplished through in-depth research that focuses on the client's day-to-day activities, site analysis, context, and background. Sang believes this is a fundamental process to design as research drives the development of the design concept.