Home › Our Voice › Articles › A Master Plan Can Help Negotiate an Uncertain Future
A Master Plan Can Help Negotiate an Uncertain Future
The pandemic has brought on a different daily rhythm: I have found time to catch up on TV and books over the last several months—even given me time to think. Much to my delight, I had an AH-HA moment while watching Pinky and the Brain!
I have always loved that cartoon but hadn't seen it in some time.
"What are we gonna do tonight Brain?…What we do every night, Pinky, try to take over the world!"
While watching, and laughing, at their highly elaborate, completely improbable plans and attempts to take over the world, I thought, it's good to have goals and important to have a plan, but, don't forget that not all plans are created equal!
At PDR, I lead master plan teams for projects of all kinds. As we pivot to our Next Normal, a master plan becomes even more critical to help an organization evolve into whatever is next. So, what are the attributes of a master plan that enable success, not impede it?
Webster defines a master plan as, "a plan giving overall guidance." Master plans are documents that give guidance on how an organization might evolve over the long-term. In today's world, where events seem to move at an ever-increasing pace, a master plan needs to be agile.
But why, and what does that even mean? What makes a master plan agile and useful, rather than a book that collects dust on the shelf? Agile master plans need to be purposeful and performance-oriented.
Organizations often fall into two master planning traps.
TRAP 1 – SOLVING ONLY IMMEDIATE ISSUES
While solving immediate issues is important, differentiate between short-term problems and long-term goals. Agile master plans put people at the heart of the plan. Great leaders know that great business plans can help to create profit, but it takes more to truly thrive. When an organization approaches success at both a personal and a business level, people want to work there and help the organization to achieve breakthrough success.
An agile master plan will define a greater purpose that is less likely to change when external conditions change. That purpose, or "why", is different for every organization. A greater purpose is something that the whole organization can rally around and weather the storms of change in a market. A greater purpose allows an organization to pivot quickly because the destination is the important thing, not the path. When even the future of the world may look uncertain, how can an organization ensure that they are headed in the right direction? Don't be reactionary – Be Purposeful!
TRAP 2 – TOO MUCH INTRICATE AND DETAILED INFORMATION
Companies can include too much micro-planning during a master planning process. Details are important—even critical to day-to-day business, but details also have a greater likelihood to change over time.
While a master plan should have a foundation of detailed information, the direction should be macro scale and based on desired performance attributes. An agile master plan gives guidance, not instructions, regarding people, process, and place. An agile master plan describes the desired effect on the people, the desired outcomes of the process, and the desired impacts of the place. Flexibility is key. Great leaders know that empowered employees innovate faster and have a greater commitment to the organization. An agile master plan will define the framework that a team can use to make decisions, not necessarily defining the decisions themselves. The plan will focus on big ideas rather than a detailed list of steps to take. When the world changes at a rapid pace, how can a company ensure they can adapt to the changes and still be successful? Don't be prescriptive – Be Performance-Oriented!
When done together, the plan generates excitement, provides flexibility, and gives the room to evolve forward into the next normal – whatever the future may bring.
BACK TO PINKY AND THE BRAIN
Brain's plans were always so intricate that one minor change caused a catastrophic failure. The plans were so complicated and detailed Pinky could never understand, and Brain had no greater purpose, just a desire to take over the world for his benefit. Brain had many master plans, but in the end, Brain could never achieve his goal.
Now more than ever, we understand that the future is unknown, and the world can change in the blink of an eye. Do we give up on improvement? Or do we take advantage of the opportunity that the pandemic gives us to create plans that will help us the next time the world shifts, big or small? I believe that the future will show that organizations that developed truly agile master plans will evolve into their own Next Normal and serve as examples of success that are studied in the future!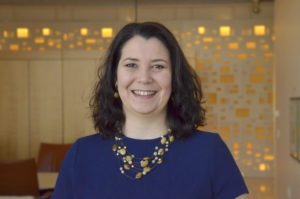 As a Project Manager and Project Architect, Kimberly brings an organized approach to programming, planning and design, with a deep understanding of the elements necessary to produce construction documents. She takes great pride in helping clients define and realize their project desires, from the earliest phases to move-in and beyond.